With fall already in full swing, soups are the first thing that comes to mind for me. After a chilly day, the thought of a warm meal is always a hit at my house. That is what I love about Birdseye Vegetables. You can keep them stocked in your freezer and check what other ingredients you need and there is a meal. You could actually plan a whole week out with their recipes on their website.
Two that caught my eye are the recipe for Italian Vegetable & Beef Stew and a recipe for Ratatouille.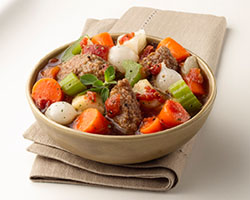 Doesn't that just look delicious? Well, it is. It does take more ingredients than some of the recipes. I enjoyed this on a Sunday which gave me enough time to prepare it. This also was great for my husband to take as leftovers to work for his evening shift.
Just to let you know a few of the items you need includes a pound of beef stew meat, olive oil, Italian style tomatoes and the rest you can find on their website here. There is nothing like homemade and you can add crackers and or Italian bread (or bread of your choice)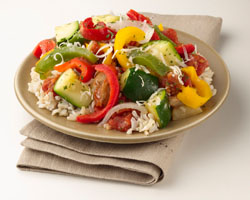 This dish is something close to what my Mom used to make when we were kids. Ours was more of a soup where I noticed that this one really isn't. I did like how this one could be on brown rice which is optional of course. Or you can serve it alone. I did opt to add more broth so it had more of a soup consistency, but either way, the vegetables taste great!
This dish does take about 50 minutes with preparing and cooking, so it could be more of a weeknight meal. Some of the ingredients you will need are an eggplant, zucchini and diced tomatoes. To find out the rest of the ingredients that you need you can go here for the recipe.
Make sure to visit Birds Eye's website and social channels below.
Website | Facebook | Twitter | Pinterest | ShopBIRDSEYE