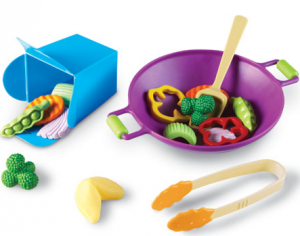 When I watch my child play with Learning Resources' activity sets, I feel like I am watching the gears in his brain turning, hard at work. I see how his focus and concentration increases and he manages to solve problems, and figure things out.
That's how children learn best – through hands-on experiences that they can relate to. There are areas of play that we sometimes lose sight of the value of. Building toys are a huge one for me. They really teach countless skills, in addition to offering a outlet for creativity.
"Our mission is to support teachers and parents by providing unique, high-quality educational tools that enhance instruction and provide engaging learning experiences that meet children's individual needs. Our versatile products include play and learning activity sets, manipulatives and games that build foundational skills in all subject areas through exploration, imagination and fun. In addition, we offer simple technology products and teacher resources to support the delivery of education. Developed by top educators, our award-winning products have been trusted by teachers and parents for over 30 years."
When you think of holiday gifts, your mind might not automatically think "educational." You might veer more toward "fun." But what if you can do both? Give a gift that your child will enjoy now, but that will also provide lasting benefit for years to come. That is truly the best gift ever.
Here are some ideas:
1. New Sprouts Stir Fry Set:
This adorable play stir fry set has everything your child needs to make a… stir fry! It includes a surprisingly durable takeout container, wok, tongs, spatula, fortune cookie, peas in a pod, broccoli, and more cut veggies. Your child can really make his or her own stir fry!
"Activity and food sets let children express feelings and ideas through play, while teaching critical early learning skills."
So why a stir fry? Well, it's not just a stir fry. The New Sprouts line has loads of different food sets that can be mixed and matched. We like the stir fry, because it has some of M's favorite foods (he loves vegetables), but you can choose from camp out, fresh fruit salad, and more exciting themes. For ages 2+.
2. Gears!Gears!Gears!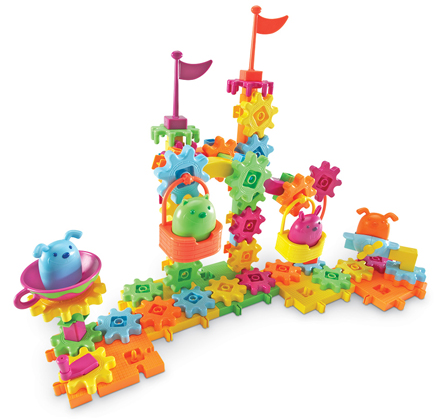 Gears are such fun for building with, and they add a new element to the engineering aspect of building toys. You can buy a big starter set, or you can check out one of the new play sets. M loves the "Pet Playland Building Set". It has plenty of "doggys" and he's obsessed with dogs. The colors are fun and bright. And if you set it up with all the gears in the right place, when you crank the handle, the pet rides work!
Make your own designs and mix and match with other Gears! Gears! Gears! sets for endless possibilities. For grades PreK+, includes 83 pieces.
Successfully creating something that works really gets kids going. Start by following the cards to make specific maze patterns on the board. Then, guide the ball through to the finish. Once your child gets the hang of it, she can try setting up her own design.
Create-a-Maze is a great collaborative activity for children in grades Kindergarten and older. They not only create, but then actually use it. It promotes critical thinking and engineering skills in a very hands-on and creative way.
Holiday gifts don't need to be all play. They can incorporate some education too, without compromising on the fun and excitement of toys and games. Because the best learning comes from toys and games!
Connect with Learning Resources:
Disclaimer:
This product was received from the Company for review purposes only. All thoughts and words in this post is my own and I was not paid to endorse it. I am only voicing my opinion about this product.