Balancing your private life with your job is challenging – it might even seem impossible to some. Meeting the deadlines at work and parenting your children at home is exhausting, so working mothers hardly ever find the time for themselves. However, no matter how busy your work schedule might be, a portion of your day should be reserved for unwinding. There are many ways for working mothers to relax when they come home after a long day of work. Read on to learn about our top five ways to do it!
Disconnect from work once you get home
Bringing work home is common for working mothers, and stressful situations they face at work can sometimes take a toll on their relationship with their children and their partner. Therefore, it is important to disconnect from work as soon as you enter your home. Set some boundaries when it comes to your work to stop it from interfering with your private life. Make a mental note that once you're through that door, you can't talk or think about work anymore. Stop checking your e-mails and turn off your phone to disconnect completely from your workspace. Doing so will help you have a clear mind for other, more important things in life, such as nurturing relationships with your children and your spouse.
Relax with a nice hot bubble bath and a glass of red wine
Nothing will help you relax more than soaking in the bathtub after a long day of work. Fill your tub with hot water and use bath salts or bath bombs to unwind and indulge all your senses. You can even make your own bath bomb by using the ingredients from your kitchen. Consider lighting several scented candles to create a soothing atmosphere for a spa-like experience at home. It would be a great idea to buy red wine online to take your relaxing bubble bath to a new level. Getting a glass of wine in the evening will help you fully relax and enjoy some time in silence.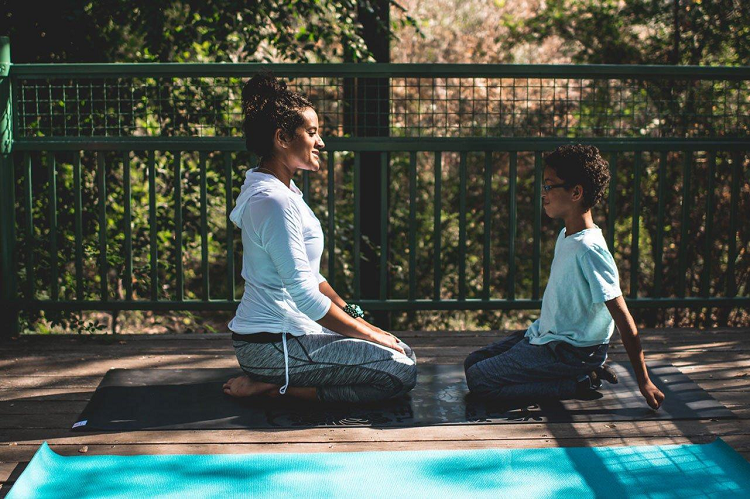 Reserve one area of your home solely for relaxing
Having a place where you can enjoy some peace and quiet is crucial for maintaining your mental health. Therefore, consider turning an area of your home into a zen zone – get some pillows and blankets to create a comfortable area to relax in. Make sure to remove everything that might present a distraction – there shouldn't be any phones, laptops, and TVs, since they may interfere with your 'me' time. Declutter the area for your Zen zone and limit the number of things in that area – it should be simple, clear, and clutter-free. In addition, consider introducing some low-maintenance indoor plants to create a perfect retreat for reconnecting with yourself.
Divide the housework to get more time for yourself
House chores are something that working mothers generally don't like doing, especially when they've just come home from work and all they need is to relax a little. Housework isn't something that should be expected only from women, either – it is something that the whole household should share. Ask your family members for some help and consider dividing the house chores between them. Depending on the age of your children, they can be assigned some simple everyday chores in order to build good habits. Things like making their own bed and picking up toys are simple tasks that can be performed by toddlers while dividing the cooking and cleaning chores between you and your spouse is a sure way to get some time for yourself, guilt-free.
Reconnect with your family and your partner
Another great way for moms to relax after working long hours is to gather your family members and enjoy each other's company. Telling funny anecdotes and sharing a laugh with your family will bring you closer together and help you bond with your loved ones. Consider renting a movie or going for an ice-cream with your family – those are two fun activities all of you can enjoy. By maintaining a connection between yourself and your kids, you will strengthen your relationship while simultaneously relieving your body from work-induced stress.
Finding balance in life and reclaiming control over it are two important steps every working mother needs to take in order to maintain her wellness. By incorporating some of the suggestions above, you are sure to reduce stress levels and restore harmony in your life.