​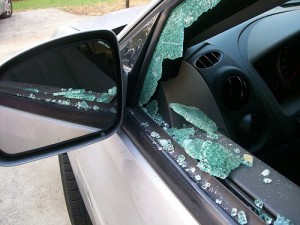 There are approximately 1.85 million car break-ins each year in the United States with about $1.225 billion worth of accessories and personal items stolen. Experts say that for every successful break-in, there are several unsuccessful attempts as well. There's no reason to despair or become a statistic because there are simple habits that can reduce the chances of a car break-in. They aren't completely foolproof, but utilizing them will reduce the chances of a thief targeting a car.
Lock the doors
This may sound like a complete no-brainer, but surprisingly about a quarter of thefts happen when the car is unlocked. It doesn't matter how short the trip is or that the car is visible from the window of the convenience store, make sure to lock it. A locked car will deter the thief who is looking for a quick and easy target.
Use an alarm system
Yes, everyone is used to the blaring horns in parking lots, but the noise may scare off a would-be thief. Factory-option alarms usually work best, but a carefully installed and calibrated aftermarket system can provide the same level of protection. Be sure not to leave sun roofs or windows slightly open because this practice can disable the pressure sensor in some alarm systems.
Don't leave valuables out in the open
Stash cell phones and other valuables in a locked glove box, or better yet, carry them with you. Also, don't leave empty shopping bags on the floor, it may cause a thief to think the bags contain something of value. Shopping bags should go in the trunk, and drivers shouldn't do this when they arrive at another destination. A watching thief may see the bag transfer and target the car.
Park wisely
Avoid parking in areas that are concealed by bushes, fences or larger vehicles. It's not going to stop every thief, but parking in a highly visible, well-lit area will scare off all but the most brazen variety of thief. Parking in visible areas also discourages muggings or would-be abductors as the owner approaches the car.
Use physical theft deterrents
A large number of car break-ins are done with the intent of stealing the car. However, there are a number of inexpensive items like steering wheel locks, brake pedal locks, steering column collars and gear shift locks that act to discourage the would-be car thief from attempting a break-in. Combining several of these items is also a good way to make sure thieves move on to another target.
Keep the factory audio system
There's no black market for factory car stereo systems, and they've really become decent sound systems in recent years. In addition, most car insurance policies don't cover the theft or damage caused by the removal of an aftermarket sound system. Luckily, the theft of audio components is on the decline because so many of the systems are disabled when forced from the dashboard. However, no one ever said all thieves are savvy about what they decide to grab, so it may be better to avoid an expensive system.
Nothing will make a car 100 percent safe from a break-in. Theft and break-ins have just become a fact of modern-day life. However, following common sense steps will at least make the car a less desirable target. If your car is a victim of a break in, report the incident to the police and file an insurance claim if necessary. Glass companies, such as Ace Discount Glass, provide 24 hour emergency auto glass repair services and will get you back on the road in no time.
Ace Discount Glass is an emergency auto glass repair specialist in Austin, TX. For more information, connect with them on Google+.