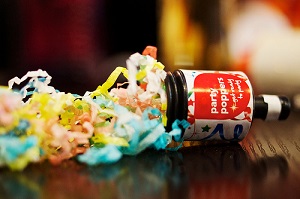 None of us need an excuse for a good old fashioned knees-up every once in a while, especially if there is a special occasion looming; whether it be birthdays, anniversaries, moving house, weddings, christenings or even just because you fancy a party. If you're planning on hosting a party for your friends and family, then we've got just the tips and tricks you need to ensure it is completely memorable.
Location
First, it is important to decide where you want your party to be held. If it's just a little event then perhaps hold it at your own house? Something bigger may require a gazebo in the garden or maybe the local village hall. If you're planning on inviting hundreds, then you may want to look into specific event venues that cater for that amount of people. Depending on the type of venue you go for, it can get quite pricey. Ask your family and friends if they don't mind chipping in a few pounds, to keep the costs down.
Food and Drink
Once you have picked a venue, you can then think about the food and drink you wish to offer your guests. Some venues will insist that you only use their food and drink services, which means your mind has been made up for you. Other venues will allow you to bring in your own food, but require that guests use their bar for drinks. If you're hosting it somewhere such as a village hall, outside in the garden, or at home, then you will need to supply your own. You don't have to be a Michelin star chef to make some incredibly tasty treats for your party, as there are a whole ton of recipes for party food to be found online. Pick your favorites and give yourself enough time to make them before the guests arrive. If you're feeling flash then hire in a caterer, or even a mobile bar, to take the pressure off of you.
Decoration
No party is complete without at least some form of decorations! Depending on the size of the venue and your number of guests, you may want something small and understated (such as a few balloons) or something themed and professional looking. We're a big fan of having a party with a theme, as it adds an extra dimension to your special occasion. If you are going to pick a theme then go for something that is relevant to you, or the person you're holding a party for. You can easily do the decorations yourself in most venues, as long as the hosts don't mind. However, bigger venues or difficult themes may need the help of a professional party planner and decorator.
Entertainment
The best part of any party is the entertainment, from live bands to magicians. Here are some of our favorite ideas for entertainment at your big bash:
A DJ or Live Band – There has to be music at your party! If you are hosting a small get together then you can play DJ using a laptop or iPod and some speakers.
A Magician – We can't all afford David Blaine at our parties, but there are some rather awesome local magicians that you can afford to hire.
Simulators – If you've never tried a sports simulator then you are really missing out! We found some cool simulators at Sports Entertainment Specialists that are definitely party worthy.
A Photo Booth – If you want lasting memories of your big party then invest in a photo booth for you and your guests. Make sure you include a box of dressing up clothes nearby for some hilarious pictures.
Bouncy Castle – You don't have to be hosting a children's party to have a bouncy castle; after a drink or two everyone will be bouncing away.
We hope we've given you some great ideas for your next big special occasion. Just pick one idea from each of the categories, and you're bound to have a party that everyone talks about for years to come.