Thinksport's New Natural Deodorants in 5 Scents
Thinksport, the leaders in safe, non-toxic products, recently released it's all natural deodorant. On the heels of Thinksport's award-winning sunscreen, they've used the same scientific approach to solving smelly, sweaty athletes, by creating a safe, non-toxic deodorant that actually works!

Goodbye Harmful Chemicals
Countless deodorants flood the aisles that contain harmful chemicals that should be put nowhere near your skin (phthalates, parabens, aluminum)…so Thinksport set out to create a deodorant that is free from toxic chemicals, some may call it the holy grail of natural deodorants.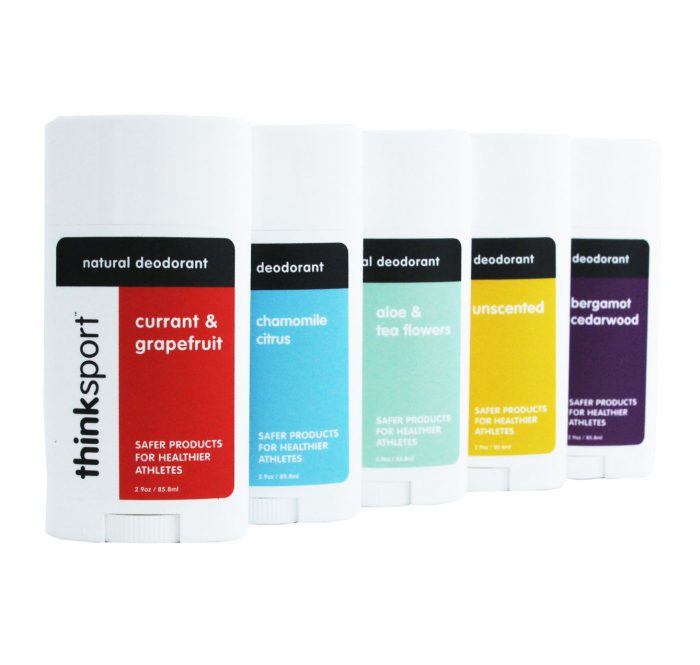 Thinksport's natural deodorant is made of ingredients you can trust AND pronounce. All ingredients are rated "1" by EWG. Not only is their deodorant free of harmful chemicals, it also acts as a highly effective antiperspirant. The fantastic array of essential oils adds an amazing aroma.
About Thinkbaby and Thinksport
Thinkbaby Thinksport's founder, Kevin Brodwick, brought his interest in health and preventative medicine and his background in biotechnology together to form a company with the sole purpose to create alternative products for babies, children, adults, and athletes alike. With a team of physicians and scientists focused on the latest biological and chemical sciences, Thinkbaby Thinksport continues to lead in the usage of safe, non-toxic materials for consumer goods.
For more information, visit
GoThinkBaby |GoThinkSport | Twitter |Facebook | Instagram |ThinkSport Instagram