Chocolate and caramel.
Some things you just don't mess with because they are just so good.
And then again, there are some things that you mess with because the result is not just good. It's so freaking amazing that you think you have died and gone to heaven. Trust me it's happened. I've had chocolate truffles that have spoiled me on "ordinary" chocolate truffles. I've had coffee cake that has made every other coffee cake seem absolutely pedestrian. And now it has happened with chocolate and caramel sauces. I'm spoiled. I'll never look at a normal name brand or store brand jar of hot fudge or caramel sauce the same way. If I want some ice cream, the old jar just isn't going to do it. I would give up the hubby for this stuff it's that good. Haha, just kidding, I can't give up the hubby because when I need replacement sauce I will need to have the hubby go out to the mailbox to get it. I'll be nice and order it, but he is walking out to get it.
Out of the 5 jars that I have been hiding in my closet … I'll be honest; I haven't managed to get through them all yet. But if the first three are any indication, the last two will be pretty good. I might be speculating, but I think I'm probably going to be right.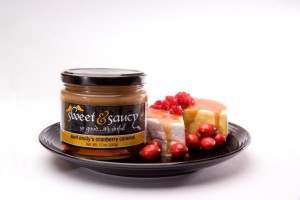 First stop on the caramel caravan to heaven was rum. They were kind enough to send us some recipes and I can tell you that simple or complicated, they have put some thought into these. The first foray was a twist on Monkey Bread. But instead of covering each piece of dough in cinnamon sugar we poured the rum caramel over different layers. The result was out of this world. The hubby and child managed to devour this thing so quick I thought I was going to lose a finger. Heck, I thought the child was going to lose a finger to the hubby. That went so fast that we were forced to try again. I swear. Men in guns showed up at the door and forced us to make another batch, this time with the Cinnamon Caramel. I'm not sure the guns were loaded, or even real, but I swear they were there and forced us. As soon as it came out of the oven and I was able to flip it over, I grabbed the plate, bolted for the bedroom and locked the door and barricaded myself in. The hubby and child were beating at the door like rabid dogs, but I held them off. The only problem was that I hadn't managed to bring any milk in with me. Fortunately they wore themselves down enough that I was able to take down the barricade and get out. I used the remaining bit of Cinnamon Caramel Monkey Bread as a diversion and got out to get a drink. Now fully sated the two beasts fell into a nap while I looked at the other jars. What to do with them I thought to myself.
Step one, get everyone else out of the house. This was accomplished by a need for ice cream. Little did the hubby know we had ice cream. He's trusting like that. Once he was out, I immediately popped the Peanut Butter Fudge in the microwave. I want to say I came up with some amazing recipe, but you know what I did? Jane and Erin Jones know, because they put it on the label. I got out a spoon and ate it right out of the jar. The husband got home and immediately called an attorney. I'm pretty sure he is getting ready to divorce me over the Peanut Butter Fudge incident, but I have to be honest. It was worth it. He doesn't know about the other two jars, and I'm not telling him.
Sweet and Saucy, Inc.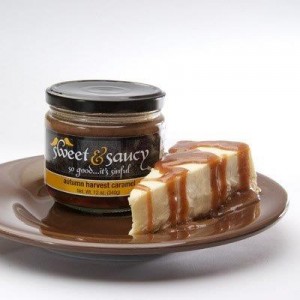 Sweet and Saucy caramel sauces and chocolate sauces are all-natural and handmade in the U.S.A.
The decadent caramel sauces are versatile enough to use right out of the jar, or be used in recipes where the caramel is cooked.
Offered in a variety of flavors, from the seasonal Autumn Harvest Caramel (offered only August through December) to the year-round new but already popular salted Caramel, these items make delicious additions to not only desserts, but appetizers and main dishes as well. Additional caramel flavors include Amaretto, Cranberry, Butterscotch, Chardonnay, Peach, Cinnamon, Coffee, Whiskey, Rum, and Spicy Mango.
The delicious chocolate sauces are also offered in a variety of flavors, including the seasonal Peppermint White Chocolate (available only August through December). Additional chocolate sauce flavors include Dark Chocolate, Amaretto, Cabernet, Chipotle Chile, Espresso, Mint, Orange Liqueur, Peanut Butter, and Raspberry.
Need a gift idea?
Individual jars retail for $9.99 each.
Small Gift Packs are $24.99 and include a combination of three caramel or chocolates sauces.
Large Gift Packs are $47.99 and include a combination of six caramel or chocolate sauces.
Connect with Sweet and Saucy, Inc.: Shop | Facebook