Surprise Your Man With Mancrates
Let's face it. Guys are always complaining about how hard we are to shop. When in reality it is a piece of cake if they took our hints and clues. Guys on the other hand are extremely hard to shop for. I was looking for the perfect gift for my husband who has everything. I mean everything! Something that he would think was completely awesome. I was thinking about a gift basket but thought he would think I lost my mind and thought it was girly. He is extremely tough to shop for and does not give any hints about what he wants.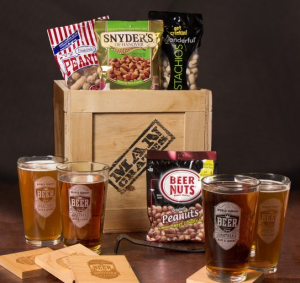 We recently had the opportunity to work with Man Crates and review one of their manly gift crates. These crates are the perfect gift for any man in your life. We were sent a personalized Barware Crate to review free of charge. I could not wait for the Crate to arrived. I only on a very few occasions have I been able to really surprise my husband with a gift that he loved and cherished. One was his personalized bottles of Root Beer with the pictures of our four kids. I knew that he would love getting a Man Crates.
I gave my husband his Man Crates for Valentine's Day and he absolutely loved it. The fact that the coasters and the glasses were personalized with his name really blew him away. It is really hard to find items that are personalized with "Irv" or "Irving" in stores and I usually have to order it special. The gift arrived safely and is in an actual crate. It came with a crow bar for my husband to use and break open the crate. Inside the crate was a set of four personalized glasses, four personalized coasters, peanuts, pretzels, beer nuts and pistachios. All my husbands favorites!! My husband loved that the coasters have built in bottle openers! He loved his gift and right away started mentioning that Man Crates would make perfect gifts for his father and brothers.
If you would like more information or to purchase a Barware Man Crate, please visit the Man Crates Website. Be sure to stay up to date on all of the latest news and products from Man Crates by following their social media pages on Facebook and Twitter. While you are there be sure to follow Mom Blog Society on Facebook and Twitter.
Disclaimer: Mom Blog Society received product free of charge to write our review. All opinions stated in our review are our own truthfully opinion and were not influenced by the sponsor or from getting the review product free of charge. We were in no way compensated for our review or opinion.