Surprise Dad with a MLB Mancrate
Let's face it. Guys are always complaining about how hard we are to shop for. When in reality it is a piece of cake if they took our hints, clues and listened to us when we talked. This leaves me with NO IDEA on what to get them when I go shopping. Guys get away easy. Flowers, dinner and jewelry are always a safe bet when it comes to shopping for us. Guys on the other hand are extremely hard to shop for. Anything that my husband or my dad wants they simply go out and buy. This leaves me with NO IDEA on what to get them when I go shopping.
We recently had the opportunity to work with Man Crates again and review another one of their manly gift crates. These crates are the perfect gift for any man in your life and for ANY OCCASSION. This time we were excited that Man Crates sent us one of their Legends of Baseball Barware Crates to review free of charge. My husband and I were so pleased with the Personalized Man Crate we reviewed last time that we could not wait for the new crate to arrived.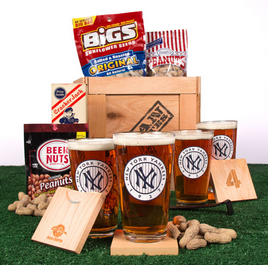 My husband has always been and always will be a die hard New York Yankee fan. Which made picking the Yankee Legend crate was a piece of cake.The Legends of Baseball Man Crate is perfect for any guy in your life that is a baseball fan. You can pick from a total of 11 different teams and years. My husband loves telling me about going to games with his grandfather when he was younger. They always got two boxes of Cracker Jacks and sunflower seeds to eat during the game.
The gift arrived safely and is in an actual crate. Of course, everything was packaged safely inside of the crate waiting to be taken apart. All Man Crates come with a handsome laser-etched crowbar to open the crate. One of my husbands favorite contents are the coasters. The coasters have built in bottle openers!
What was included in our Legends of Baseball Man Crate?
4 Officially Licensed MLB Cooperstown Pint Glasses
4 Numbered Jersey Coasters- the greatest players on the team immortalized in coaster form
Authentic Wooden Man Crate
Man Crates Crowbar
Classic ballpark style peanuts
Beer Nuts Original Peanuts
Box of Cracker Jacks
BIGS Sunflower Seeds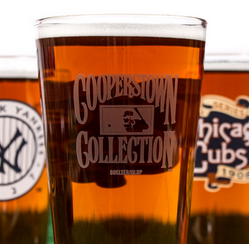 The glasses have the old 1927 logo on the front and the back has the legendary Cooperstown Collection logo on the back. The pint glasses are very strong and the perfect addition baseball fan's collection.
If you would like more information or to purchase a Legends of Baseball Man Crate, please visit the Man Crates Website. Be sure to stay up to date on all of the latest news and products from Man Crates by following their social media pages on Facebook and Twitter. While you are there be sure to follow Mom Blog Society on Facebook and Twitter.
Disclaimer: Mom Blog Society received product free of charge to write our review. All opinions stated in our review are our own truthfully opinion and were not influenced by the sponsor or from getting the review product free of charge. We were in no way compensated for our review or opinion.