Have you heard all about Suprizamals? They are so very cute! They are so super soft and great quality and make perfect birthday party gifts. You will also want to make sure to include them in your kid's stockings. (I know I am getting ahead of myself). Suprizamals are for both boys and girls too! If your child would like to collect something this could be just the item to start with.
You can collect from all four categories: Common, Collectors, Rare and Extra Rare. You will never know what you are getting and duplicates are possible, but the whole excitement of what is inside of the ball is the fun of it if you ask me.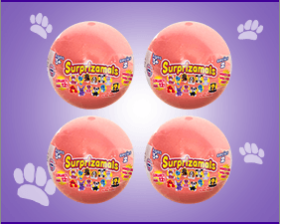 Suprizamals come in different series, and you can order 3 different Fun Packs right now. They also have the Cuties Series 3! 2.5 inches in different value packs for great prices. But I am most excited about the 'Design your own Surprizamals Contest and the new Series 4 that are coming out.
About the Design your Own Surprizamals Contest
If you can dream it, they can make it. The Beverly Hills Teddy Bear Company (BHTB Co.), a leader in the creation and design of high-quality plush merchandise for established companies worldwide, is thrilled to launch a Design Your Own Surprizamal contest to celebrate the release of Surprizamals Series 4.
Participants can now design the next cute and cuddly Surprizamal. The grand prize winner will have their design become part of the Suprizamal family and the top three submissions will win the entire Series 6 collection! The winning design will be incorporated into the upcoming series launching at the beginning of 2018, as the limited edition Surprizamal.
As the first plush line to enter the blind capsule space, Surprizamals continues to generate buzz from collectors and toy influencers everywhere. They are a hot selling item due to their collector appeal, adorable characteristics and the fact that they remain a mystery until opened.

"We are excited to debut Series 4 and offer collectors the chance to have their own design featured in our Series 6 collection, said David Socha, Chief Executive Officer, Beverly Hills Teddy Bear Company. "Children love searching for limited edition Surprizamals as they build their collections so imagine having their very own design incorporated into the series. We look forward to seeing these creative designs."
The June 2017 contest coincides with the launch of Series 4 into major retailers nationwide. With 15 new cuddly, soft, snuggly play friends the line has expanded to include Lola the Ladybug, Hopey the Hedgehog, Yety the Yeti and other sea, woodland and mystical themed characters.
CONTEST DETAILS
Submit your designs: June 1, 2017 – June 30, 2017.
Contest closes: July 1, 2017
Winner announced: July 30, 2017
Surprizamals are available for children ages 3+ and retails for $4.99.
For more information on Surprizamals visit www.surprizamals.com and to learn more about the contest visit www.surprizamalsworld.com.
Visit Suprizamals on their Social Media:
Facebook | Twitter | Instagram
Tell me in the comments which one of the Series 4 pictured above is your favorite?