The Miracle Blanket® by MiracleWare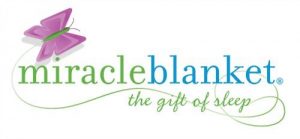 Having a colicky baby is the pits. The baby is miserable. Mom and dad are miserable. The baby cries and cries, and mom and dad are heart broken and sleep deprived. What can a parent do?
The art of swaddling has been around for a very long time. The practice has been shown to help to soothe babies and increase sleep times. The key is to find the right material to swaddle baby in,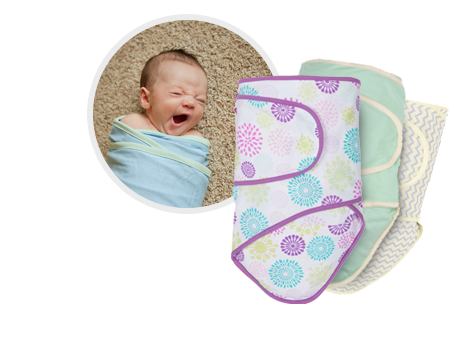 and to wrap the "swaddle" correctly. The Miracle Blanket® has taken out all the guesswork. It's made of 100% cotton. It's breathable, super soft and perfect for any weather. Baby will stay warm without getting overheated. It's unique shape means that you get the perfect swaddle each and every time.
Features:
Stops colic, see their guarantee
Helps baby sleep better and longer
Helps keep babies on their backs
Prevents twitching and "starting"
Prevents facial scratches
Makes breastfeeding easier
Easy to wrap and stays put
Made of 100% super-soft breathable cotton knit – perfect for any climate
1 size fits all, up to 14 weeks
Offers simplicity of design – no buttons, straps, Velcro, knots, or zippers
Offers a 100% money back guarantee
Check out the website to learn how to use the Miracle Blanket® for a perfect swaddle for babies from birth to 14 weeks of age.
About the Miracle Blanket®
We tested, researched and developed this product over more than a year. We didn't even attempt to set up our distribution channels until late 2002 AFTER we were totally convinced that the blanket was everything it seemed to be. At the time of its public launch, the Miracle Blanket® was, by far, the most tested, tried and effective product of its kind and has remained so ever since.

Because it actually does what we say, you can imagine that once it hit the market word spread like wild fire – to put it lightly. As a result, within weeks of our launch, demand became overwhelming. Even the most widely distributed and trusted magazine in the world, Good Housekeeping, got a hold of the Miracle Blanket®. They were so excited they wrote a half-page article about it.
I have swaddled so many babies over the years. If I had a dollar for every swaddle – I'd be rich! I received a blanket, a sleeper and set of bibs from MiracleWare, and I'm IMPRESSED. The material is buttery soft. The Miracle Blanket® truly is a breeze to use. The design of the blanket really does makes swaddling full proof. They are right when they say that you can't make a mistake. I have to add that I LOVE the bibs. They are light, yet absorbent and the size is great. I might just have to get a dozen for each new grand baby that comes along.
Check out the Miracle Blanket®, and all the MiracleWare has to offer. These would make such wonderful gifts for the special people in your life, that have a new baby in their home. Give them the Gift of Sleep, and they will be eternally grateful!
Adjustable Bodysuits
Adjustable Pants
Miracle Blanket®
Miracle Sleeper®
Miracle Sounds
Baby Bibs
Baby Sets
Baby Washcloths
Changing Pad Cover
Hooded Towels
Muslin Crib Sheet
Muslin Swaddle
Security Blanket
Serenity Blanket
Connect with MiracleWare – The Makers of the Miracle Blanket®: Shop | Facebook | Twitter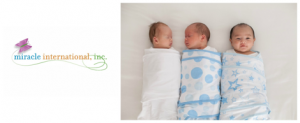 Disclaimer:
This product was received from the Company for review purposes only. All thoughts and words in this post is my own and I was not paid to endorse it. I am only voicing my opinion about this product.