Today it is common to see a tablet or smartphone in most homes. Either used down the road at your local café, or right at home these electronics are becoming part of our every day lives. A large group of businesses and schools are already relying on tablets more often then computers simply do to portability. However, minor health issues have been unfolding because of how we engage with them. A product called Tabble is looking to change problems like this. Look out for their Indiegogo campaign via the Tabble website to help jump-start their product. The Tabble is a free-standing platform that allows hands free access to your tablet while it rest comfortable on you. This is going to be a great way for everyone to carry their tablet around, especially for any frequent travelers who occur delays. Products like Tabble will change the way we interact, and even design our tablets in the future.
Whether you are streaming a video game, movie, or any video for that matter Tabble is perfect for you. The Tabble brings it's own unique design to tablets holders. The Tabble folds around a variety of tablet sizes, holding it firmly in place while the base of the Tabble rest gently on your lower torso. A strap balances the Tabble releasing stress from your body while you enjoy your favorite movie, or take care of your business. The Tabble allows you to get the most out of your tablets and smartphones. While Tabble allows hands free access to your tablet so your not putting strain and stress on your bones.
Features:
Tabble is a 1 size fits all product! sizes 6″-13″ displays (152-330mm)
Compact & Lightweight
Open earphone slot, and waist strap

For the latest information please like and share Tabble's Facebook page at

https://www.facebook.com/thetabble/
Tabble is launching their Indiegogo crowd funding campaign in late December and is now taking Pre-Orders!, visit http://www.tabble.com.au/ to sign up.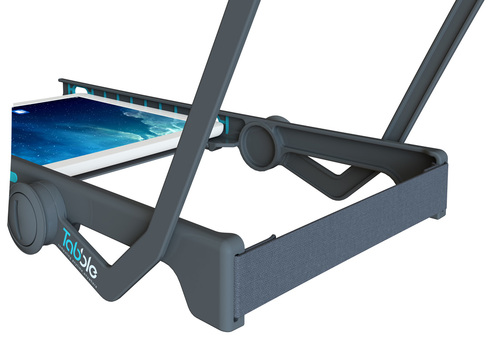 Everyone is looking out for the latest accessories for tablets in order to make interaction with them easier. With the holiday season just around the corner families are gathering up the last few gifts they need. This could be an inexpensive gift for either your child or significant other. Now that tablets and smartphones have been out for some time. We are finding easier, and healthier alternative ways to use them. I know i'll be looking for one of these beauties under my tree this year. Let the Tabble be at the top of your shopping list for tablet accessories for the holidays this year!
Connect with Kate David:
Disclaimer:
This product was received from the Company for review purposes only. All thoughts and words in this post is my own and I was not paid to endorse it. I am only voicing my opinion about this product.