The perfect oil diffuser for your child to have as a companion when they go to bed. The ZAQ Sky Kids Oil Diffuser with Starry Projection is the perfect gift. Creating a calm environment for your child(ren) is the most important thing for their well being. Sleep time can be a tough time for any child because their minds go a mile a minute or at least mine did.
The Sky Kids Oil Diffuser helps make their bedtime fun and soothes them to sleep with visions of a beautiful starry sky as its diffuser releases calming aromas and humidified air. With a sleep mode that gently darkens the room, they can float away in a peaceful slumber into a deep sleep. So you will find that bedtime is something they will start to look forward to instead of fight against. The sleep timer is a 30-minute timer so you can bet they will be asleep at the end of the timer if not sooner.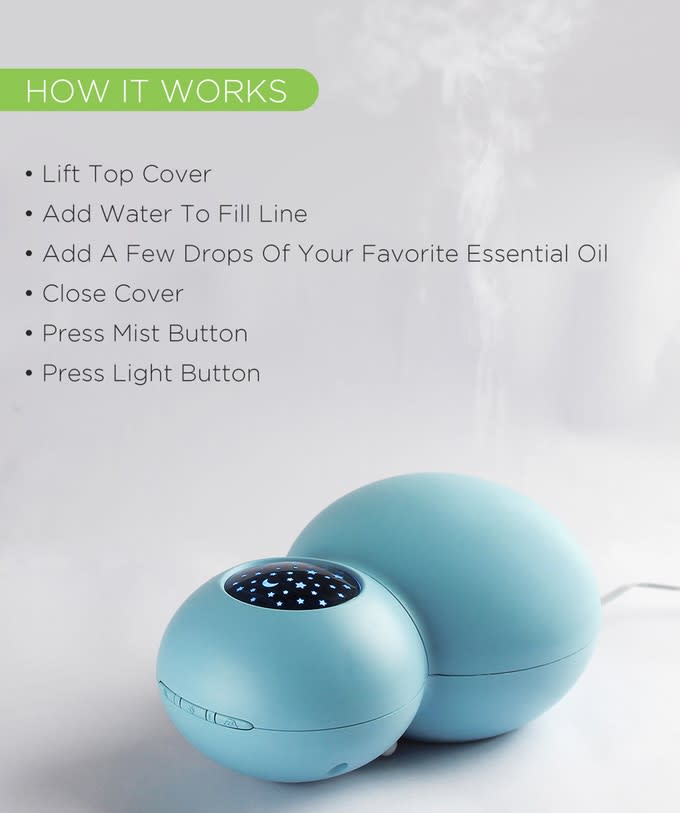 The Technical Information
You will love the size of the Kids Sky Oil diffuser as it is only 6.88 x 4.65 x 3.35 inches and weighs only .45 lbs without its adapter. With its size, it won't take up space. It has a 120 ml water capacity and has intermittent and continuous mist modes. There are five different light modes which include a no light mode, and three separate buttons for ease of use. The runtime is up to 12 hours, and it also has an automatic shut off if it runs out of water. You will see it also has a warm night light and a 100-240V AC power adapter that is included and allows you worldwide voltage. This means you can take it anywhere!
Testing the Sky Kids Oil Diffuser:
These oil diffusers come in 5 colors: baby blue, black, white, pink, and orange. You will find there are more uses than just your child's bedroom. These can be nice in your nursery school class, daycare rooms, living room, bathroom. The ideas are endless.