As women and savvy shoppers, we all want to spend our money wisely. We know what we need to budget and essentials to buy for our families, and those special items we want for ourselves. Spending our money purchasing major brands is typically what we all do. But then you come across amazing products that also help mankind and the planet.
We discovered to two very different entrepreneurial companies, who not only wanted to build a brand, but to give back and make a difference in lives.
The first company we spoke to is Teysha Shoes, which are ethically handcrafted shoes from Guatemala, co-founded by twenty-something Sophie Eckrich. For the past five years, Teysha has built their own workshop in Guatemala, employing over fifteen traditional shoemakers.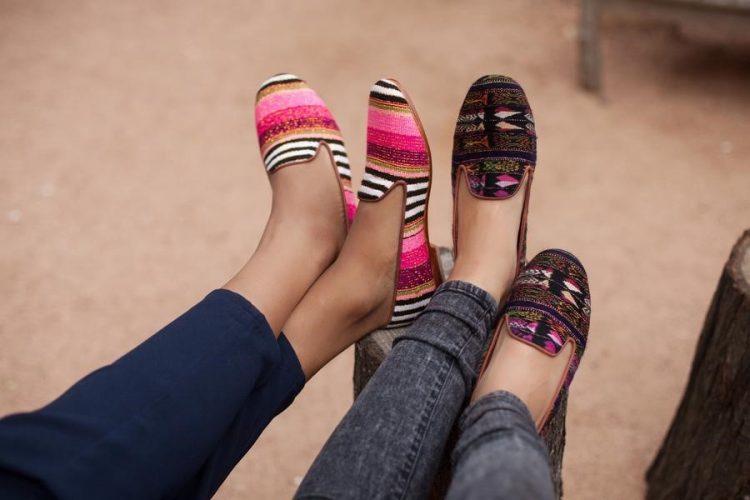 After studying Sociology, Latin American Studies, and International Development at the University of Texas, combined with her Mexican heritage and passion for making an impact, Eckrich knew "what" she wanted to do – work in Latin America and help others. She just didn't know the "how". After graduating she looked for jobs that shared those two qualities and realized that most of them required 4 years' experience + a graduate degree. She was ready to get started on her path of impact, so decided to just go for it. Whatever age or stage of life someone starts, there will be different advantages and disadvantages, but what was important to her is that if you do have an idea, that you at least try it.
There were many challenges in launching the company, but luckily Sophie and her team were so inexperienced that they had no idea what we were in for. Each challenge felt like it came one at a time, so it felt like one could be solved before the next one came. Everything from finding the craftsmen, choosing a home base country, figuring out import/ export laws, coming up with a plan to meet customers, were all challenges but ones that encouraged Sophie to think outside the box since she didn't know what was "supposed" to be done!
Sophie had done an internship in college with the Whole Planet Foundation/ Grameen Trust in Guatemala in 2008 and fell in love with the culture in Guatemala. It is a unique country in that it has an abundance of creative people, artists, and craftsmen, so it seemed like the perfect place to have her home base for the business. Her philosophy has always been to go and meet people in person, where they're from, and see who has the spark or desire to work with us. There's a certain go-getter quality for someone who is willing to take a risk to work with someone new. Over the years, they have built strong relationships based on consistency and good work, so once you have that it's easier to expand your network to bring in more talented and driven people.
Prior to working with Teysha.is, the artisans were earning less and having much less consistent work. Many artisans struggle to find consistent markets for their craft or talents and thus live in great uncertainty. Working with Teysha, they know that they will have consistent work, be paid well, and work in a happy and inspiring environment.
Teysha.is mission has always been to create opportunities for people and art to thrive. One of their teammates, Victor, started as a leather cutter and was able to pay his way through University through working with Teysha, and now manages many of the operations within our workshop in Guatemala. Their very first artisan partner in Guatemala, Sonia, has grown her business right alongside ours. They have been so glad that some of the textiles that she makes have been Teysha's very best sellers, providing lots of demand and work for her and her amazing family.

A small team collaboratively designs each pair of shoes, thinking through what styles they personally feel are missing in their wardrobe, and what styles would make a good canvas for textile and leather art. "We are always taking into account our customer feedback and wishes to see what style we can make that is versatile, comfortable, and unique, stated Eckrich.
The design process varies, most recently they had three days between drawing and the first sample, and other times it can be up to a year! Teysha.is has so many new styles in the works for 2018-2019, that they are all working together to bring the styles to life as soon as they can, so they can share them with the world.
"I am so thrilled that the consciousness of so many people is expanding to think about who made their things and in what kinds of conditions. There is a new level of transparency reaching brands and companies, who are having to answer the questions of "where was this made?" "by who?" "what kinds of wages did they earn?". My advice would be to do a little research into brands you are investing in with your purchase and see how open they are to share that information, and if you feel you can trust that information. We welcome anyone to come to visit our workshop in Guatemala where you can see with your own eyes how happy our team is and how beautiful the environment is," stated Eckrich.
Vist on Teysha on Instagram or Pinterest
The next company we spoke with is Ecotech Labs, Amazource Skincare, Their mission is to help to save the Rainforest. Each purchase allows the native communities to preserve 2000square feet of rainforest.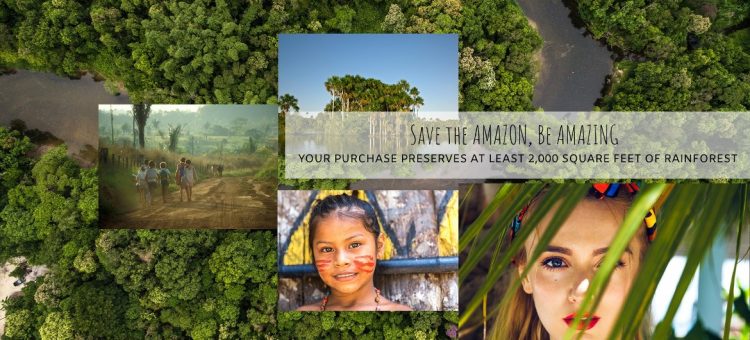 Founder and CEO Sergio Calderon Rossi has an extensive record of accomplishment in economic and sustainable development. Before founding Ecotech Labs, he had successfully led more than 80 development projects in the Andean Region from planning to execution stages Amazource® Skincare products are the purest and one of the most effective skincare lines on the market today. They are made with premium components and offered to the consumer at very reasonable prices. The Amazource team are on the ground, learning from communities firsthand about the specific properties of unique trusted ingredients that deliver a higher nourishing effect on the skin. Acai, coffee, passion fruit, cocoa, honey, rainforest atmospheric water and countless other native resources were used for centuries by original inhabitants of the rainforest. Now, this ancestral knowledge is available to everyone! Which is so important to our readers, Amazource products are cruelty-free (not tested on animals) and paraben free.
While working on several development projects in South America, Founder and CEO Sergio Calderon Rossi observed that Amazon's indigenous communities are under immense pressure. In fact, extractive activities such as illegal logging, oil, and illegal mining are trying to move away lawful owners and indigenous communities from their ancestral lands to deforest them to continue this savage exploitation. Many native leaders have even been murdered just because they lived on a valuable land. According to Global Witness, in 2017 four people were killed every week on average.
Despite this situation, they don´t receive any government support and the restricted private funds were available only for individual projects with limited impact. It was ironic for them to live and be responsible for protecting the richest natural sanctuary on the planet and don´t receive any mean to do it. In fact, Amazonia is the source 60% of the fresh water on earth; produces 20% of the oxygen of the planet; 25% of Western pharmaceuticals derived from rainforest ingredients and 25% of the active ingredients in cancer-fighting drugs come from organisms found only in the rainforest.
So, the founders of Amazource ® decided to start a purpose company to be able to steadily finance the protection of the biggest rainforest on earth. They forged alliances with native communities and landowners who have huge estates but little resources to manage and protect them from the deforestation caused by extractive mega industries.
Currently, their field partners possess a combined 1 million acres of protected land. They are qualified landowners and indigenous communities whose members have lived in the Amazon rainforest for generations and have an official conservation status.
Those partnerships granted the company a privileged access to the almost limitless biological resources in the 1´000,000 acres they currently cover and allow the company to research and develop their superior skin care products.
"We represent a unique eco-business partnership with Amazon rainforest landowners to keep their territories untouched. If we consider that Amazonia is the lung of the planet, less rainforest means less oxygen to breathe and live, not only for us but for future generations." "We give skincare a sense beyond any mainstream "green" product because each unit acquired has a concrete impact," stated founder Sergio Calderon Rossi
Amazource contains natural and unique ingredients such as acaí, passion fruit, honey or atmospheric water directly sourced from the Amazon rainforest. They don´t induce any artificial effect but they gently restore the balance of the skin cell natural processes.
To see their entire line of skincare visit: http://amazource.com
Or Visit Amazource Skincare on Facebook or Twitter