Pop star and children's author Lisa Loeb debuts a new video based on her new album Nursery Rhyme Parade!
Lisa Loeb recently released her fourth children's album, Nursery Rhyme Parade! These 35 classic songs and rhymes are perfect for parents and caregivers to share with their young children during the quiet times of everyday family life. Nursery Rhyme Parade! has already won endorsements from Kids First! and the American Library Association this year. Acclaimed children's book and magazine illustrator Ekaterina Truhan created the sprightly animal parade art for the album, which also features a "selfie" image of Lisa Loeb on the front cover. It's available exclusively from Amazon Music. Prime subscribers may stream the album free.
The album simply promotes bonding. As Lisa says, "I wanted to make a record that sounded like a mom singing to her child in their room. These are the songs I sing to my young children when we're getting out of bed, when we get dressed in the morning, when we drive in the car, take a bath, or get ready for bed. The production and singing are gentle and simple, so that children may sing along and connect with the grown-ups they love."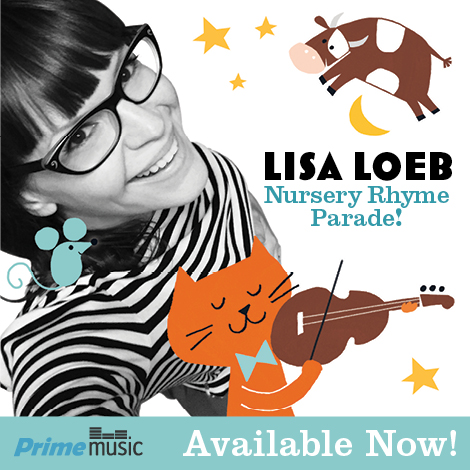 Debuting today: "This Little Piggy," a rhyme from Nursery Rhyme Parade! featuring Lisa Loeb and her son Emet (URL)
We asked Lisa a few questions about "This Little Piggy:"
Why did you choose this rhyme to include in Nursery Rhyme Parade! ?
This is one of my favorite interactive nursery rhymes that always gets a laugh. It's just the cutest thing to hold each one of your chiild's toes and get that super fun giggle at the end of "wee, wee, wee, all the way home." My parents always used to do this nursery rhyme with me.
Did anything interesting happen as you recorded "This Little Piggy?"
I found that the best (and only) way to record it is with an actual child, so I brought my younger child, Emet, who had just turned three, to be in the studio with me. You can hear him laughing at the end of the recording.
Emet seems to be enjoying the rhyme immensely. Does he like to play this with you often? Why do you think it appeals to him?
We play "This Little Piggy" all the time. Though it makes us laugh every time, it's calm enough even to play at night. Who doesn't like a game where someone runs their little fingers like mini legs all the way up to a final tickle? We also use silly voices and a lot of suspense in the way that I say it to him.
Twitter Handles: @LisaLoeb / @AmazonMusic
Watch the video: This Little Piggy." https://youtu.be/hh6UD8k7L3c
Connect with Lisa Loeb:
AmazonMusic | Facebook | Twitter | Pinterest | Instagram