Get Saving Mr. Banks Today on Blu Ray
Saving Mr. Banks follows the events that transpired by the beloved book Mary Poppins creator P.L. Travers. Starring Tom Hanks, and Emma Thompson. It's a heartwarming story detailing the life events that lead to the actual creation of Mary Poppins and eventually the making of Disney's Mary Poppins movie itself.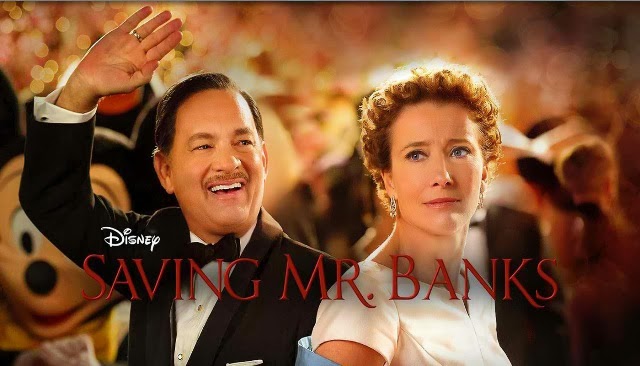 When I was a little girl my favorite movie was Mary Poppins. I watched it daily and sang along to the songs. I think my mom had to replace the VHS at least three times because I wore it out from playing it so much.
I was excited when I heard that Disney was making a movie that followed the events that transpired the book and created my all time favorite movie. My husband and I made a special movie night, cuddled up and watched Saving Mr. Banks.
Saving Mr. Banks is a delightful film. Emma Thompson outdid herself in this one! She took the role of P.L. Travers and owned it! She was witty, fierce, forceful, cynical and at time very funny.
The film runs from present to flashback and is simply easy to follow. At times, it will leave you on the edge of your set wondering what is going to happen. You'll gain insight to the actually making of Mary Poppins and what inspired it creation in the first place.
I am so happy that Tom Hanks plays Walt Disney. He is an extraordinary actor just like the type of person Walt Disney was. I think he did an amazing job in the iconic role as the Mickey Mouse creator. I loved the segments featuring P.L. Travers' childhood in Australia. It was both happy and sad at time, yet wonderful regardless.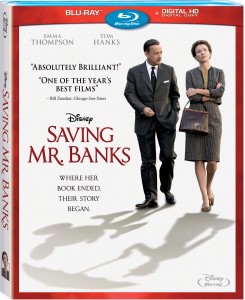 Saving Mr. Banks features a stellar supporting cast that includes Colin Farrell (Total Recall), Paul Giamatti (Sideways), Jason Schwartzman (Rushmore), Bradley Whitford (TV's The West Wing), Annie Rose Buckley (TV's Home and Away), Ruth Wilson (The Lone Ranger), B.J. Novak (TV's The Office), Rachel Griffiths (TV's Brothers & Sisters) and Kathy Baker (Edward Scissorhands), Saving Mr. Banks was directed by John Lee Hancock (The Blind Side, The Rookie), produced by Alison Owen, Ian Collie and Philip Steuer, and written by Kelly Marcel and Sue Smith. Executive producers are Paul Trijbits, Andrew Mason, Troy Lum and Christine Langan.
The untold true story of Saving Mr. Banks arrived on Blu-ray™ + Digital Copy, DVD, Digital HD, and On-Demand on March 18th! The release includes deleted scenes, delightful never-before-seen bonus features, including director John Lee Hancock's tour of Disney Studios today and reflects on studio life during the creation of Mary Poppins, and more.
If you would like more information about Saving Mr. Banks, visit the Saving Mr. Banks Website. Be sure to stay up to date with the latest news and information about Saving Mr. Banks by following their social media pages on Facebook, Twitter.
Disclaimer:
This product was received from the Company for review purposes only. All thoughts and words in this post is my own and I was not paid to endorse it. I am only voicing my opinion about this product.