Have you heard of RearViz? If not, I would like to tell you a bit about them. RearViz is a patented innovative Rear Vision Bicycle Mirror, designed for the commuter, the athlete and the weekend adventurer.

How RearViz came into production:
After nearly hitting a cyclist with his car four years ago, Australian business owner Raymond Crane came up with an idea. With a compact makeup mirror, ripped up wet suit material and a bunch of staples, the first ever RearViz mirror was created. From then, the idea quickly transitioned into a packaged product and onto the arms of cyclists around the world. The product is an arm-mounted rear vision mirror that allows cyclists to look forward and see behind their bike for oncoming traffic. Now often referred to as 'the next best thing to a helmet' the RearViz mirror is combating rider safety in a big way.
With our weather here in New York State I will be honest, we haven't had a chance to test these out. I will say though that they are made with quality material and you can tell they will withstand the weather. We have been experiencing temperatures anywhere from -10 degrees F with -25 degrees windchill to 20 degrees F. Just not the type of weather you want to go out into unless you have to.

The SPORTS ST-35 is the sports version, arm mounted, fully adjustable rear view bicycle mirror unit. It is designed for the avid cyclist and athlete. With high quality, weather resistant materials, the ST-35 RearViz also comes with a one size fits all armband.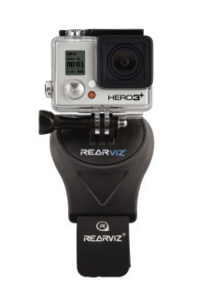 The UT-35 Universal Camera Mount
The Action Sports Camera Mount UT-35 is the deluxe version of the RearViz Camera Mount products. It is an arm mounted, fully rotatable, and flexible mount for action sports cameras and other devices. You can attach it to anywhere on your arm, but not limited to that alone. Without any special tools required, it is designed for the everyday adventurer. With high quality, weather resistant materials, the UT-35 Universal Action Sports Camera Mount also comes with a one size fits all armband. Whether it's mounted to your arm, leg, snowboard, skateboard, surfboard, jet ski or bike, how you use it is only limited by your imagination. Revolutionize your sports photography with the most versatile camera mount on the market!
Sports Uni-Mount Features
Action Sports Camera Mount fits most cameras on the market today
Flexible Plastic Mould
Adjustable and easy to wear
Fully rotatable (360°) & pivots (180°)
Sets in seconds without tools, in any position & is lightweight
Universal arm band fits up to 360mm (14″)
Compatible with the RearViz Mirror Kits
Compatible with the following Action Cameras:
GoPro 1, 2, 3, 3+, 4
Shimano Sports Camera
Toshiba Action Camera
Kogan 3+ Black Edition
iSaw A2
Rollei Actioncam S-50
JVC GC-XA2 ADIXXION
Garmin Virb Elite
Muvi Compact Camera
(Please note that the Camera and case not included)
Make sure you visit RearViz on their social media:
Facebook | Twitter | Instagram | Pinterest | Website
Disclaimer: This product was received from the Company for review purposes only. All thoughts and words in this post is my own and I was not paid to endorse it. I am only voicing my opinion about this product.