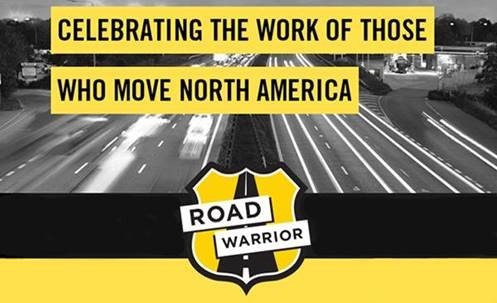 For many years, my husband has always made his pit stop (as professional drivers would say) at Pilot Flying J Travel Centers. He's been stopping there ever since he became a professional driver. Well, now Pilot Flying J has kicked off the 2015 Road Warrior program, a new initiative geared to celebrate and honor professional drivers throughout North America who demonstrate hard work and bravery on the road.
As a part of the program, anyone can nominate a professional driver to be a Road Warrior, and drivers can nominate themselves too. Just visit www.roadwarrior.pilotflyingj.com to tell your story. The grand prize for the ultimate Road Warrior is $10,000, yes you heard me right $10,000!! In order to be eligible, entries are due by August 19.
To launch the program, NASCAR stock car racer Michael Annett and his Pilot Flying J race team turned the Flying J Travel Plaza in St. Augustine, Fla., into a pit stop for all customers. As part of the memorable experience, the team pumped gas for cars, diesel for trucks and participated in a meet-and-greet…..now that's pretty cool ha! Michael Annett's No. 46 Pilot Flying J Chevrolet was also onsite. To honor the car's number, PhilMor coffee mug refills were sold for just 46 cents at the St. Augustine store.
Michael Annett stated: "We couldn't be more excited — and humbled — to serve so many great drivers! To say that my race team and I are inspired by these unsung heroes of the road would be an understatement."
From September 14 through September 30, you can vote on one grand prize winner from the pool of five regional winners on www.roadwarrior.pilotflyingj.com website.
To nominate a Road Warrior, or to find out more about the new program, visit www.roadwarrior.pilotflyingj.com.
Here's more information about Pilot Flying J: Pilot Flying J, the largest operator of travel centers and travel plazas in North America, is committed to making life better for professional drivers. Headquartered in Knoxville, Tenn., Pilot Flying J has more than 650 retail locations. The Pilot Flying J network provides drivers with access to more than 65,000 parking spaces for trucks, 4,400 showers and more than 4,000 diesel lanes offering Diesel Exhaust Fluid (DEF) at the pump. Pilot Flying J is currently ranked No. 7 on Forbes' list of America's Largest Private Companies. Visit www.pilotflyingj.com for more information.
Don't forget to enter by August 19, you never know you could become a Pilot Flying J Winner, good luck!