Here we are in the month that those call the month of love. Really each day can be a day of love when it comes to Peppa Pig and your child(ren). When I look at my grandchildren my heart wells up with love and pride. Emma is now almost 6 1/2 years old and Zakary is almost 2 years old. It just doesn't seem possible.
Emma continues to enjoy her Peppa Pig boxes of fun even Zakary enjoys them, especially when food is included. He just loves food.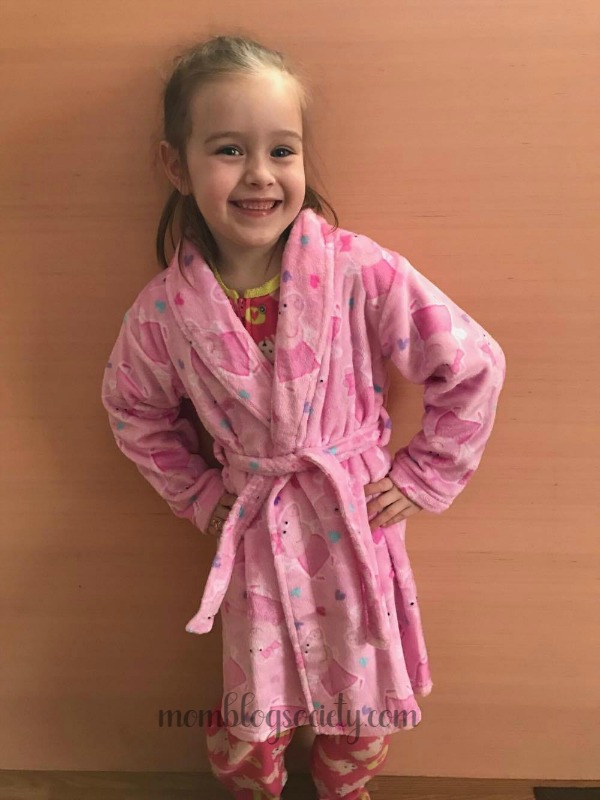 In her Peppa Pig package, Emma received a Peppa Pig Robe. So very nice and fuzzy. You can tell by the smile she just "loves it". This robe is from Komar Kids. You can find this robe at Walmart, Target, Amazon and Dillards, just to name a few. Depending on store sizes include Xs-L
Toddler Girls Pink Fleece Peppa Pig Bath Robe Housecoat
She will look adorable and stay warm and cozy in this darling pink Peppa Pig robe
Toddler sizes
Soft fleece robe
Belted tie front
100% Polyester
Machine Washable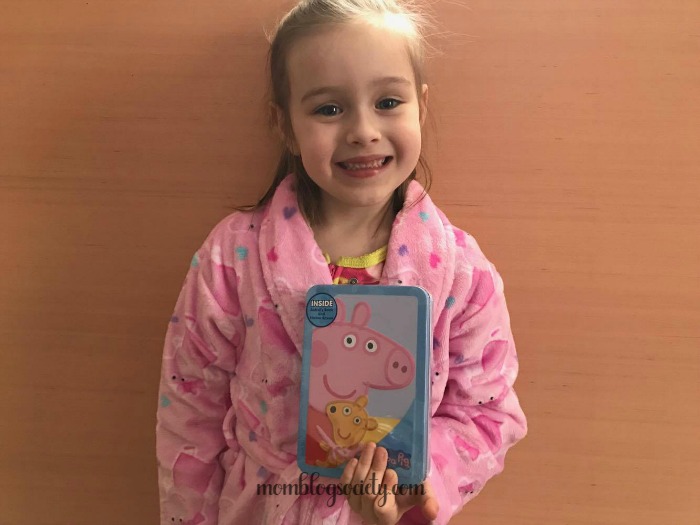 Another fun item in her Peppa Pig box was the collector's tin of oinktastic activities from Parragon. This tin includes 20 stickers which Emma is very excited about. I am happy that Emma is older, I am still finding stickers in my home from when her and her Mom lived with us while my son was in Japan.
Peppa Pig Mini Impulse Tin is filled with a full-color activity book, over 20 stickers, and a double-sided sticker scene. Complete over 40 great activities – learn to draw, help Peppa find George, have fun at the beach, and much more. Then make your own sunny scene using the stickers of Peppa and her favorite friends.
Age Range: 3 – 7
Number of Pieces: 6
Content: tin includes one 64-page paperback, 3 sheets of stickers and 1 double-sided reusable sticker scene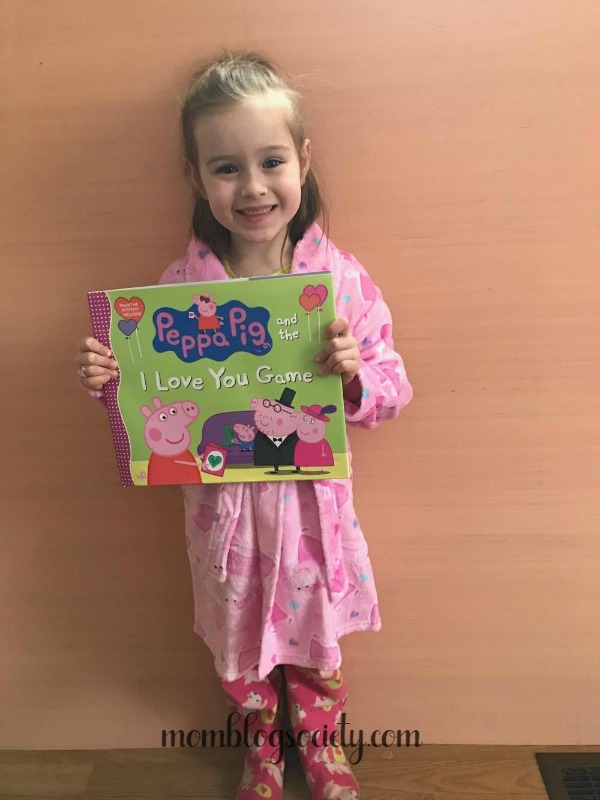 From Candlewick Press comes the "Peppa Pig and the I Love You Game" book. Emma has been really working hard on her reading and it is always helpful to have a fun reading book. Peppa Pig to the rescue.
It's February 14, and Peppa Pig's family is playing the I Love You game! Peppa loves many things: her goldfish, her birthday, cookies, books, going to school, and so much more. George mostly loves dinosaurs. Mummy and Daddy Pig have their favorites to add to the list, and so do Granny and Grandpa Pig. But what does Peppa love most of all?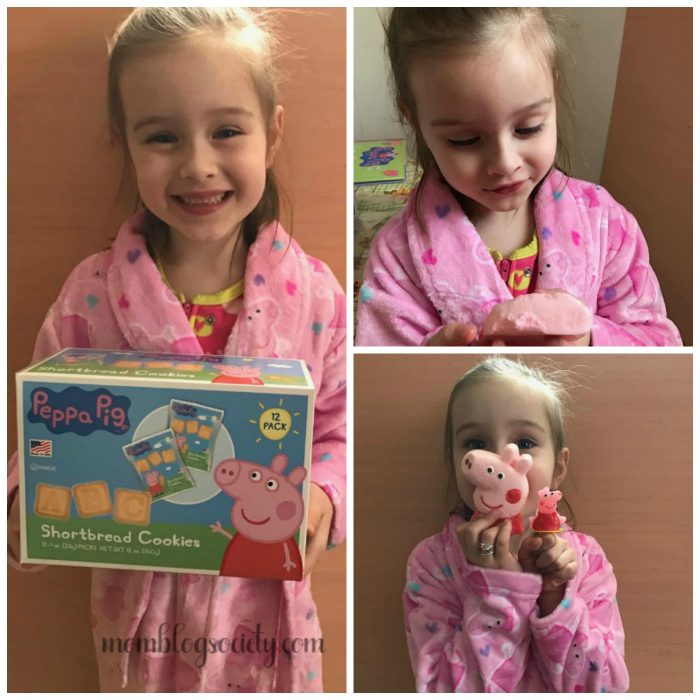 The last few items in Emma's Peppa Pig box were some tasty treats. She received some shortbread cookies, a marshmallow Peppa Pig's head, and some Peppa Pig ring pops.
Peppa Pig™ ABC Shortbread Cookies
Pack Weight: 2.0oz. / 57g
Peppa Pig Marshmallow Peppa: (bottom right) and the upper right is Em eating it.
Perfect treat for your child
Fun to eat
Fun character shaped
Peppa Pig™ 3 Pack Lollipop Rings (bottom right)
So as you see every day can be a Peppa Pig love day! Just grab a few of your favorite Peppa Pig items!
Airing daily on Nick Jr., Peppa Pig follows the adventures of Peppa, a loveable, exuberant little piggy who lives with her brother George, Mummy Pig and Daddy Pig. Peppa's favorite things include playing games, dressing up, spending days outdoors, and jumping in muddy puddles. All episodes are wholesome entertainment for the entire family; Peppa's adventures always end happily with loud snorts of laughter. Peppa Pig episodes are available on DVD and for download on iTunes, Google Play, and Amazon platforms. For more information on Peppa Pig, please visit the popular website and check out Peppa on Facebook, Twitter and Pinterest.
About Entertainment One
Entertainment One Ltd. is a global independent studio that specializes in the development, acquisition, production, financing, distribution and sales of entertainment content. The Company's diversified expertise spans across film, television and music production and sales, family programming, merchandising and licensing, and digital content. Through its global reach and expansive scale, powered by deep local market knowledge, the Company delivers the best content to the world.
Entertainment One's robust network includes film and television studio The Mark Gordon Company; content creation venture Amblin Partners with Steven Spielberg, DreamWorks Studios, Participant Media, and Reliance Entertainment; leading feature film production and global sales company Sierra Pictures; unscripted television production companies Renegade 83, Paperny Entertainment and Force Four Entertainment; world-class music labels Dualtone Music Group and Last Gang; and award-winning digital agency Secret Location.
The Company's rights library is exploited across all media formats and includes more than 100,000 hours of film and television content and approximately 40,000 music tracks.
Disclosure: I received the above-pictured items in exchange for my honest review. All opinions are my own.