Disclosure: I received wine in order to facilitate this review. All opinions are my own.
Have you ever paired your wine with a dessert? Noble Vines is the wine you can pair with your favorite desserts.
You might remember me talking national truffle day on May 2nd, Hurray It is National Truffles Day! Celebrate with JC's Pie Bites. Well, we were able to try out Noble Vines with JC's Pie Bites.
For centuries, vintners have cultivated cuttings from individual vines that produce exceptional grapes.
A select few have stood the test of time, and have been granted numbers to distinguish them. Noble Vines.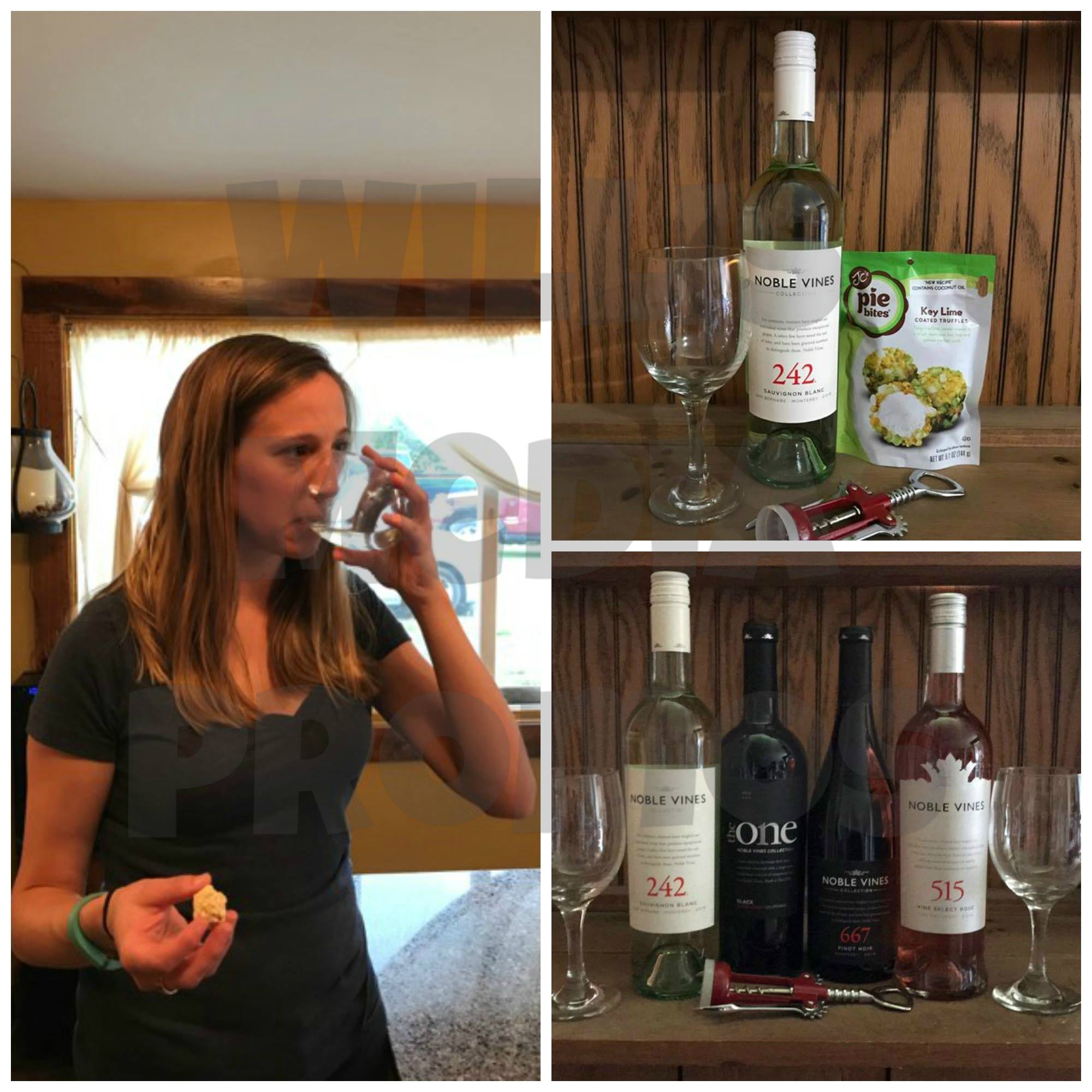 Above you will see my nephew's girlfriend Sara trying the 242 Sauvignon Blanc with the Key lime flavored truffles. She loved how the truffle pie bites brought out the sweetness of the wine. Sara said it was slightly dry and yet sweet.
242 SAUVIGNON BLANC
A treat! Zesty Sauvignon Blanc from the vine stock that made Sauternes and New Zealand famous. This wine was a hit at Mother's Day with our family. We paired it with the Key lime Pie Truffles. We received a lot of Thanks from our testers.
We also received the VINE STOCK 667, THEONE BLACK and Noble Vines 515. We haven't been able to try all 4 but we feel if they are as great as the 242 Sauvignon Blanc we will be very pleased.
DIRECTOR OF VITICULTURE
One of North America's number one grape vine experts is Charlie Hossom. He joined Noble Vines in 2012. He directs viticulture and the vine selection with a goal of steady progression. He represents the Wine Institute at the California Department of Food & Agriculture committee on vine selection and is a chairman of the American Vineyard Foundation commission on vine selection and breeding.
Charlie is also involved in developing ground-breaking water saving technology for farming and is quite often called to the capital of California for his expert testimony on sustainable farming.

DIRECTOR OF WINEMAKING
Meet the director of winemaking. James Ewart learned how to make wine with his father, one of Australia's great Chardonnay winemakers. James is one of the very few winemakers who has also completed a graduate diploma in grape growing (viticulture), from the University of Adelaide in 1999.
SUSTAINABILITY is Very Important to Noble Wines
The farm for Noble Vines Collection is located on the red, cobblestone soils of our family-owned vineyards in Lodi and on the gentle slopes of our cool-climate San Bernabe Vineyard in Monterey, California. Noble Vines pay strict attention to sustainable farming to ensure this land endures for the next century and beyond. They are a founding member of the Central Coast Natural Vineyard Team and adhere strictly to appellation-specific rules for sustainable farming each of our vineyards. Deep roots and family commitment keep them focused on superior quality—from the way they farm to how we craft our wines. These are, after all, Noble Vines.
If you haven't visited Noble Wines please do on their website.
You can also follow them on their social media below: