We have a large amount of outdoor space, 30-acres to be exact. It's a lot to keep up with. And most of it has went undeveloped. I often think of adding outdoor living space, but tend to get overwhelmed with it. I'm not sure where to start. I haven't decided if I want to start in the front of the house and go from there. And, if I do, what do I add. As you can see, it's pretty much a blank canvas.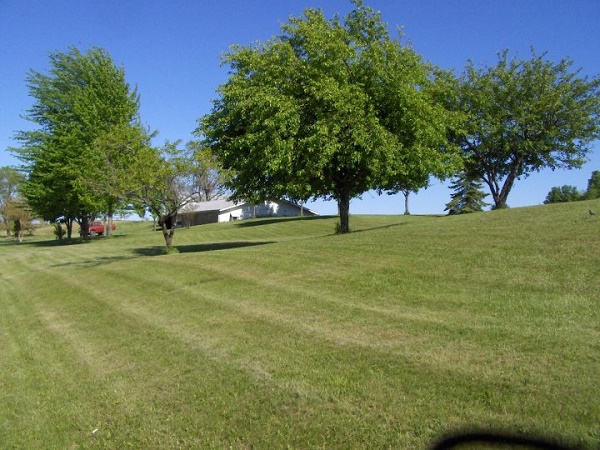 Sears Outdoor Living and celebrity designer Ty Pennington have teamed up to offer 7 secrets to the art of creating the perfect outdoor oasis.
Ty Pennington's 7 Secrets to Creating an Outdoor Oasis:
1. Build your base, add over time – After envisioning your dream outdoor space, you can purchase an entire patio collection at once or build it over time, depending on your entertaining needs. Fortunately, the Ty Pennington Style Parkside Collection encompasses 20 matching outdoor necessities – from a loveseat and ottoman to a dining table, umbrella and even a resin wicker swing. It allows you to make additions to your set on your own time. The collection is now available in three colors for custom personalization.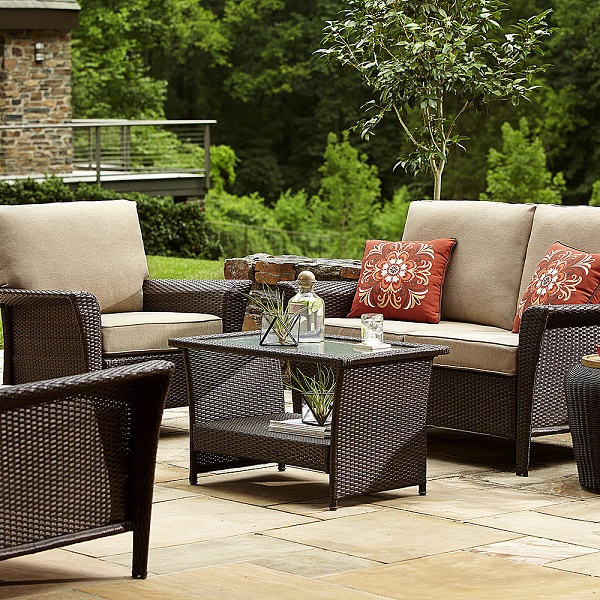 2. Get to grilling – Whether you're a novice griller or a seasoned outdoor pro, Sears has the grills to match your space and skillset. With 40,000 BTUs of power, a side burner and two large wheels for easy maneuvering, the Kenmore 4 Burner Gas Grill with stainless steel lid is ideal of the beginning griller. If cooking for a crowd is more your style, consider the Kenmore Elite® 600 Series 4 Burner Gas Grill. With 694 square inches of total cooking area, 64,000 BTUs of power, and a cast iron side burner to cook side dishes and sauces, it's the ideal grill for the avid entertainer.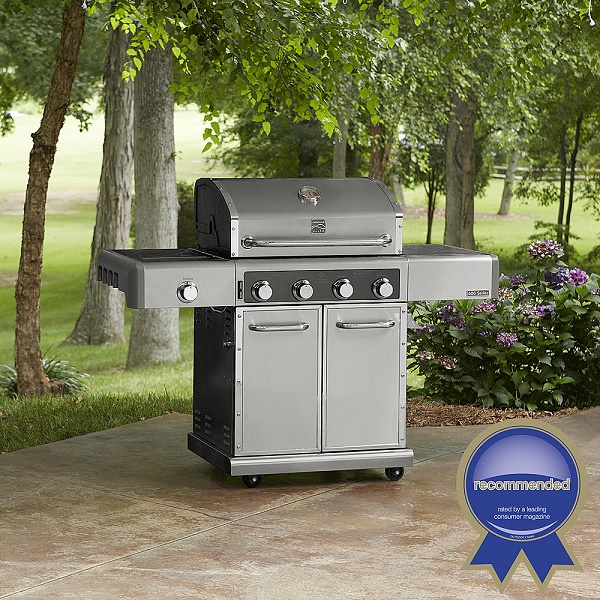 3. Welcome small spaces – Think your condo balcony or ocean-side deck is too small for outdoor entertaining? Think again. For an intimate yet eclectic look and feel, consider the extensive line of bistro and bar sets available at Sears. They are easily customizable and ideal for dining for two.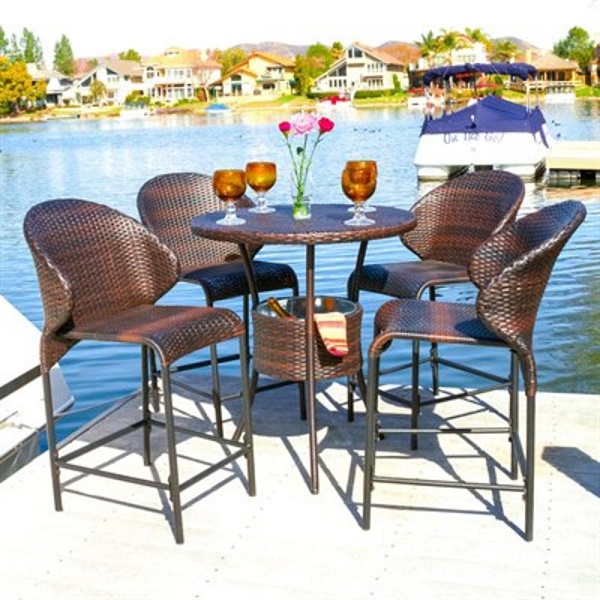 4. Go green and add some color – Nothing dresses up a patio faster than plants and flowers. Many planters at Sears coordinate with our patio collections. Refresh your patio with colorful rugs, pillows and cushions. In addition, a strategically-placed patio umbrella can do more than just block the sun – it can define your entire outdoor space. After all, summer parties should create a relaxed vibe.
5. Make your move, weigh your priorities – Summer is moving season. Whether you're moving from the city to the suburbs or from a single-family home to a condo in the city, match your outdoor entertaining to the space you have. If moving to a market with extreme climates, invest in durable furniture that can stand up to the environment. Consider patio furniture with a rust-resistant steel frame, UV-resistant fabric and an all-weather resin weave like the La-Z-Boy Charlotte 4 pc. Seating Set available at Sears. This set will accommodate your guests comfortably while upholding inclement weather for years to come.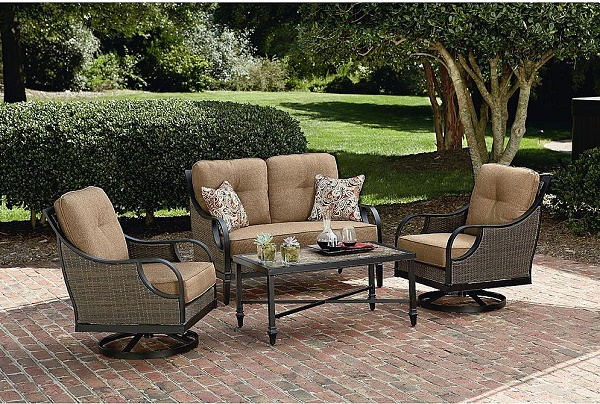 6. Dine with family and friends – Party hosts know the frustration of carrying food back and forth between the kitchen and the backyard. Fortunately, the Kenmore 5-Burner Island Gas Grill with Refrigerator takes elements from the kitchen to the great outdoors. With a side searing burner, a storage cabinet, two storage drawers and a built-in refrigerator, hosts can focus on the food and their guests with fewer trips to the kitchen.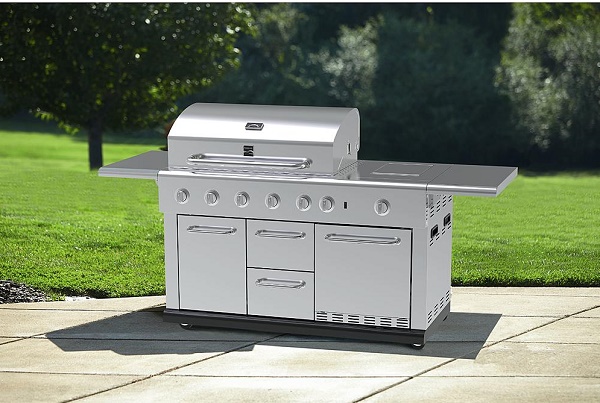 7. Consider your climate – The most popular patio sets on the market are made with either aluminum or steel. Steel is heavier than aluminum but can rust over time. Aluminum is naturally rustproof and generally requires less maintenance. For added protection, make sure your patio set has a heavy duty powder-coated frame if you choose steel.
After learning all the tip and tricks from Ty Pennington, I think I'm going to start in the back by the post. It seems I need to run to Sears and pick up a few things first!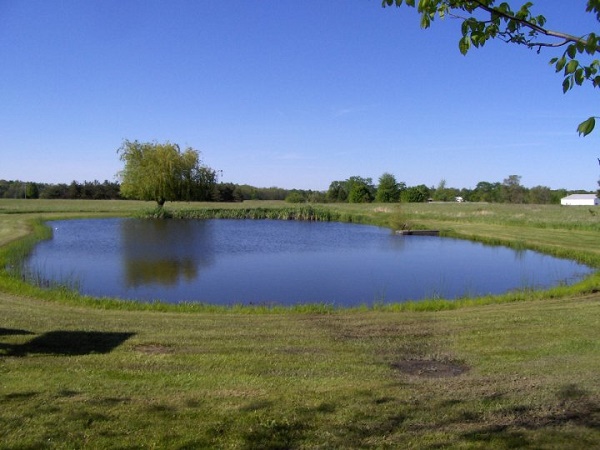 If you haven't already set up your ShopYourWay account you might want to do that now. You can create your own dream patio? Become a Shop Your Way member for FREE and enter for your chance to win the Sears Patio Sweeps at ShopYourWay.com/SearsPatioSweep a chance to win 1.5 million Shop Your Way points to bring your outdoor oasis to life.
Throughout the spring and summer seasons, Sears will offer a great selection of outdoor living collections and grills, including collections from Ty Pennington Style, Grand Resort, La-Z-Boy Outdoor, Kenmore and Kenmore Elite®.
Visit Sears.com/outdoorliving to find more tips on grilling and outdoor entertaining.
#searsoutdoorliving #ad @Sears