Having a Postcard sent for you is easy as 1.2.3
It seems nowadays we have forgotten about the 'old fashion' way of sending a card or letter. With social media, email, and chats we do not take the time to just drop a card in the mail for any occasion. I will admit I am guilty of this myself.
I was given the opportunity to use My Postcard and try out their service, so I wanted to tell you how easy it is! Our youngest daughter is away at college. Although we have phone calls, texts and Facebook chats I thought what a better way to try out My Postcard than to send her one with some recent pictures of her and her nephew and niece, her boyfriend and us! It was so easy to use and when it was all said and done it came to $1.99. I love that My Postcard was sending the postcard out for me and I was able to personalize it by writing a short message to her.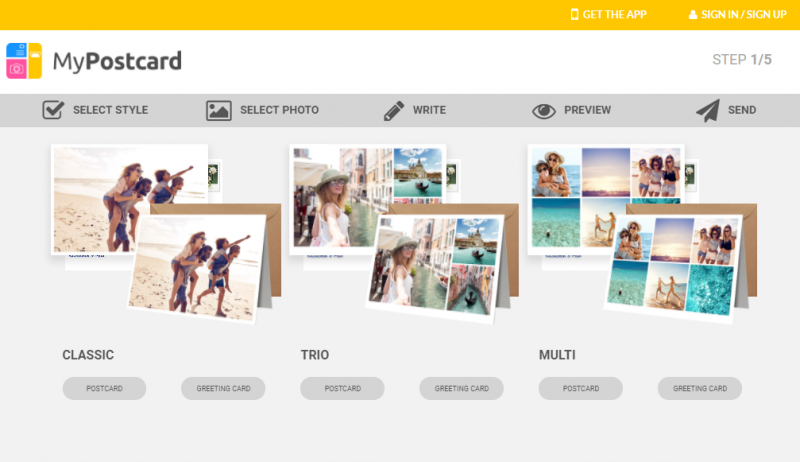 How Does My PostCard work?
First, you will go to My Postcard's website here. You will make an account and then pick out the style of card or postcard you would like to send. You can see some of the choices above. You can also choose if you want it in an envelope or not (if it is a postcard).
Once you have chosen the layout you would like you can import your images/photos from your computer or social media (Facebook, Instagram for instance). I chose a postcard that had 9 pictures I could add so they were smaller but it was what I wanted so I could include more pictures.
Once I had all 9 of my images it allowed me to decide if I wanted a black or white outline background and if I wanted any text on the front of my postcard.
Above you will see you can choose from four fonts and whether you want your font size from extra small up to large. This is also where you will address their card and put a message in.
After you are done you have a chance to preview it and make sure you are happy with how it looks. If I would have had more time I would have found some better pictures, but I felt these were good enough to show you.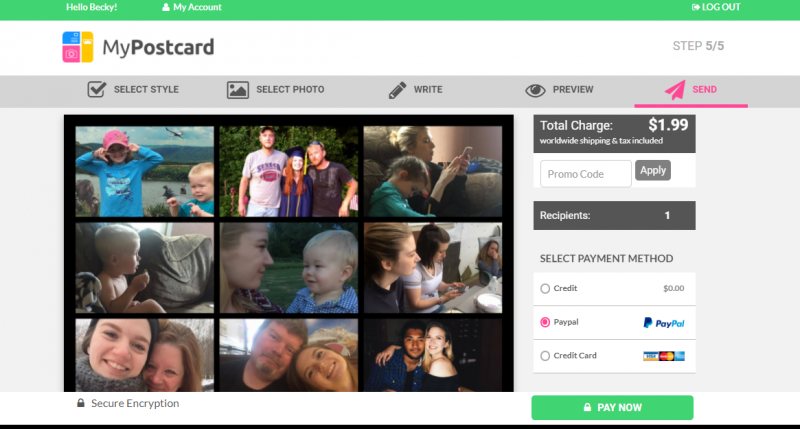 This screen shows you how much your card is, I was only sending one so it came to $1.99 and I had the option to pay with PayPal, a credit/debit card or if I would have had 'credits' I could have used those. Once you are done and have paid it will give you a confirmation screen and send an email. Also, you will get an email when it has sent to your recipient.
You can use this on your desktop computer or download the app for IOS, and Android or you can have it texted to you from the "get app" link at the top of their website here.
Who would you send your first card to?
If you would like to try this for yourself you can use CODE: momblogsociety for either a Free postcard or greeting card! We appreciate My Postcard for doing this for our readers!