The makers of Sock Ons have combined the ease and comfort of slip on socks with the warmth and protection of moccasins with their innovative Mocc Ons.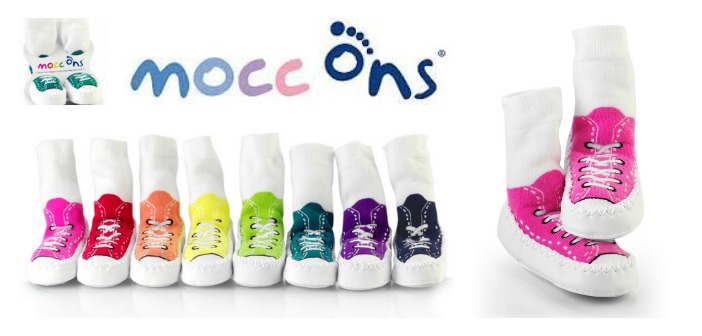 "Mocc Ons are moccasin style slipper socks, designed to fit baby from six months up to three years. They're made of a lovely soft and stretchy cotton, stitched to a real leather sole, which helps to prevent slipping ensuring that your little one's toes stay toasty all year round! Like all products in the Sock Ons range, Mocc Ons are designed to be funky, practical, fashionable and, most importantly, washable!"
My two year old niece is into everything! Walking, running, jumping and playing, so is a little ball of energy and curiosity. Hanging out around the house, there is no need for shoes, but when your floors are hardwood, socks just won't cut it. That's where the practicality of Mocc Ons comes in handy! Since the entire sole is made of genuine leather, we don't have to worry about her slipping and sliding all over the place. Plus, the soles serve to protect her tender feet against ouchies while also keeping them toasty warm during cold winter months.
Mocc Ons are also much easier and faster to put on than shoes. It's just like slipping on a pair of socks. Plus they stay on – and up – much better than socks seem to! Made of 100% cotton, Mocc Ons are durable, soft and completely machine washable. And of course there is the cute factor! They come in all sizes from 6 months up to 3 years, and are available in a wide variety of colors, patterns and styles for both boys and girls. Whether you like colorful solids, polka dots, ballerina slippers or even funky animal prints, you are sure to find a pair you love!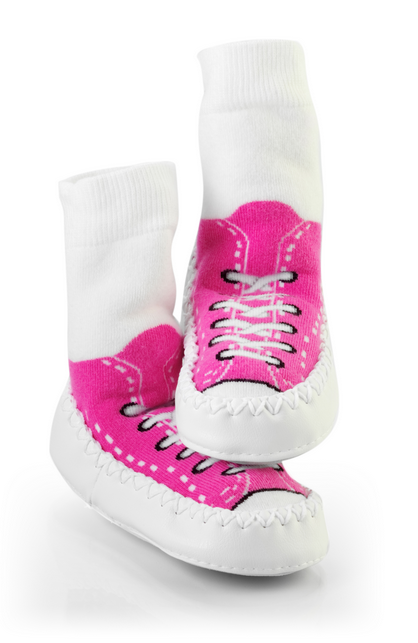 Features:
– available in sizes 6 months to 3 years
– made of super soft cotton with genuine leather soles
– machine washable
– a variety of bright colors and fun designs for both boys and girls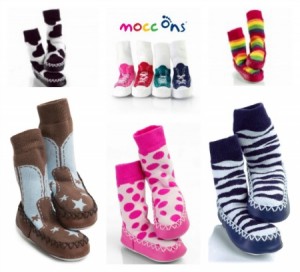 If you are looking for stylish, practical and comfortable footwear for your baby up to 3 year old toddler, look no further than Mocc Ons!
Connect with Sock Ons:
Disclaimer:
These products were received from the Company for review purposes only. All thoughts and words in this post is my own and I was not paid to endorse it. I am only voicing my opinion about this product.