With today's parents moving towards minimalism and smaller spaces, it's more important than ever to maximize the space you do have. Everybody's situation is different. Some of us have tiny yards or no yards at all, with no room for full-sized play equipment. Not to mention how expensive some of that equipment its! Some of us have small houses with small rooms that just don't accommodate large toys for extended periods of time. Good news! Ori Mishkal and Niv Borenstein have created the perfect solution. POPIN toys! This line of quality toys includes a slide, a kitchen set, a mushroom house, a car, and a pirate ship.

HEAVY DUTY
Don't be fooled by the fact that they're made from cardboard. POPIN toys are made from double flute, reinforced corrugated cardboard. That means that they're made to withstand weights up to 110 pounds. It also means that they'll survive the wildness of children at play. Each POPIN toy even comes with a one year warranty so you can feel good about investing in these quality toys for your children.

EASY SET-UP & STORAGE
Combining his design knowledge with the need for simplicity, Ori Mishkal created the unique StrongFold™ technology that allows POPIN toys to be folded and stored easily. There is no assembly, no tools required and definitely no confusing instructions to follow. Each toy pops up in 5 seconds and is ready to play in! Then when they're done, fold it back up and you can store it nearly anywhere – behind the couch, in the attic, under a bed, in the garage. The possibilities are endless.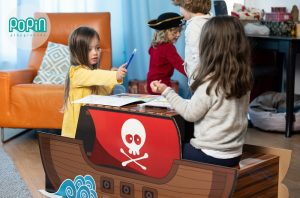 ECO-FRIENDLY
The experts at POPIN toys wanted to create toys that aren't just great quality. They wanted them to be great for the environment as well. All POPIN toys are made from 100% recycled cardboard. They even won the 2019 Green Product Award from IDA Designs.

PORTABLE
As a parent, I know how hard it is to travel with kids. POPIN toys make it even easier to take their favorite toys along. No matter where they're going – a weekend at grandma's, a vacation that includes a hotel stay or even a sleepover at a friend's house, POPIN toys travel easily and take up minimal space.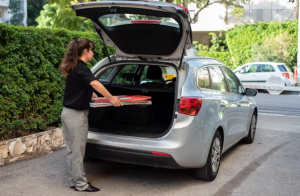 It's so important to encourage a child's creativity and imagination. Let them be world-class chefs or famous race car drivers. Let them make friends with gnomes who live in mushroom houses or battle pirates on the high seas. And let them do it safely, conveniently and in style.
Connect with POPIN Toys: Web | Kickstarter | Facebook | YouTube | Pinterest | Instagram |