Whether you are a new mommy looking for baby tips, a couple planning your wedding, or a college student shopping on a budget, there's no doubt that the internet is endlessly useful. However, families know that the internet can also be a dangerous place for kids. Between cyberbullies, online predators, and screen addiction–it's nerve wracking to allow your children to access the web.
The statistics prove to be even scarier. Children spend nearly 9 hours a day glued to screens. 50% of youth have experienced cyber bullying. 1 in 5 teens have received an unwanted sexual solicitation, and most don't tell their parents. What's worse, only 55% of parents limit how many hours a day their teen is online.
Luckily, there are ways parents can be proactive and make the internet safer for their families. Follow these safety tips to ensure peace of mind and a better experience online for everyone in your household: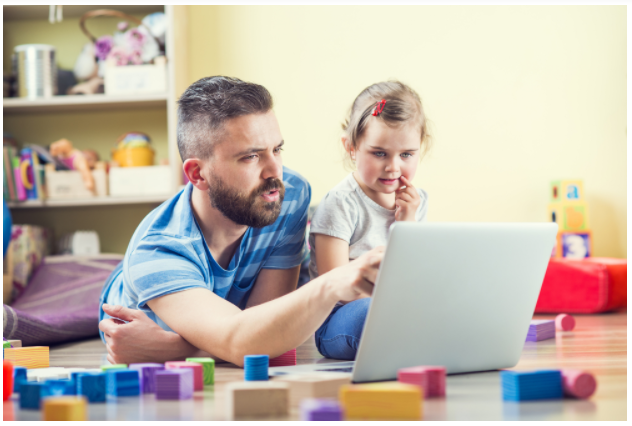 Be Involved
As a parent, you wouldn't let your child go to an unfamiliar place without checking it out first, so the internet should be no exception to that rule! With your child by your side, walk through the different sites they frequent, set parental controls and show them why you are setting certain restrictions. For example, YouTube has safety features to limit what videos can be viewed.
Be sure to check in with your child as often as you can. Talk to them about what they're seeing online, who they're communicating with, and when needed adjust parental controls.
Encourage Privacy
Children meeting strangers online is one of the parent's biggest fears. It's important that kids know they should protect their privacy at all times. Take time to teach your child why they should keep information such as their full name, birthdate, address, school, phone number, etc. private. They should also never assume that a photo shared online or on an app is ever safe.
Be Strategic About Location
It's easier to monitor your child's internet use if they're not holed up in their room where you can't keep an eye on them. Instead of letting them roam the house on their iPad, have them stay in one place where you can keep an eye on what they're doing. If you have a desktop computer or laptop, place in the family room where there is a lot of activity. There's nothing wrong with being a helicopter parent when it comes to the internet!
Set Specific Browser Settings
Setting restrictions on your online browser guarantees that your kids will be kept safer during their time on the web. For instance, Internet Explorer has something called "Content Advisor", which allows you to filter out language, nudity, sex, and violence using a scale system. Netscape and Safari also have parental controls that allow for filtering. This means even if you're not peering over your kiddo's shoulder as they click away, your mind will be at ease knowing they're not seeing anything inappropriate.
Use Kid-Friendly Websites
Kids are learning to be tech-savvy from an incredibly young age nowadays, so it's a good idea to use sites that are made especially for them. These include sites like Ask Jeeves for Kids, Yahooligans, or government sites that end with the "dot kids" domain. This is a simple and straightforward way to keep them safe, and for even easier browsing, mark these sites as favorites!
Take Advantage of Valuable Resources
Keeping your children safe sometimes requires the use of additional trusted resources. Created by experts, the Child Safe Kit by Family Safety Resource is the perfect way for parents or grandparents to keep children of all ages safe. The Profile & DNA Kit and guides to internet safety are all useful and easy to understand. The best part is that this is free!
Parenting is certainly not an easy job, but that doesn't mean it's not rewarding, exciting, and full of love. Spend less time worrying about your family and more time enjoying them.