I don't know about any one else but sometimes for dinner I just want a simple but yet delicious salad. It seems I am a little burnt out on chicken, hamburger, fish, and to be honest anything related to meat.
Have you ever felt that way before? Like, you're just tired of eating meat and need something a little different. Well, I'm thinking about doing a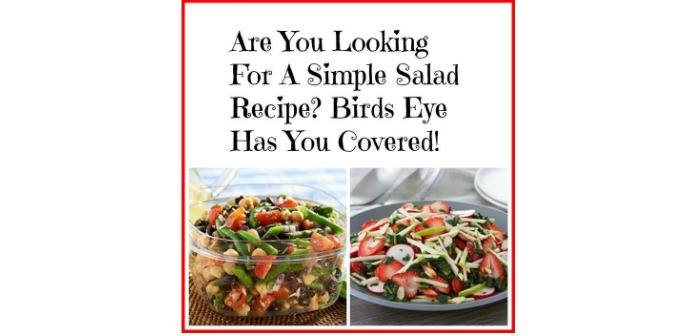 Since I love Birds Eye veggies so much I thought about adding a few recipes from their line of veggies for my meal plans.
My first thought for my meal preparation is this Italian Three Bean Salad recipe.
This Italian Three Bean Salad is simple and very easy to prepare and hey, don't it look delicious too. Just make sure you have all the ingredients listed below to create your salad:
Ingredients
1 bag (12 oz.) Steamfresh® Whole Green Beans, cooked according to package directions and cut in half
1 can (15.5 oz.) garbanzo beans , rinsed and drained
1 can (15.5 oz.) black beans, rinsed and drained
1 pint cherry tomatoes , quartered
1/3 cup shredded parmesan cheese
1/4 cup finely chopped red onion
1/4 cup Italian-style dressing
2 Tbsp. thinly sliced fresh basil
1/4 tsp. black pepper
Combine green beans, garbanzo beans, and black beans with cherry tomatoes, Parmesan cheese, and red onion. Toss with Italian dressing, fresh basil, and black pepper and Voila!
The best part of this salad is it's all veggies, no meat which I'm excited about. Here is also another simple salad recipe from Birds Eye I think you and I will enjoy especially if you too like Kale. It's called the Strawberry, Apple & Kale Salad
Wow, this looks so good and tasty! I love strawberries and kale so I know I will definitely be adding this one to my meatless meal plan.
Ingredients
1 bag Steamfresh® Chopped Kale, cooked according to package directions
1 quart strawberries, hulled and jsliced
1 Granny Smith apples, cored and julienned
1/2 cup thinly sliced radishes
3 Tbsp. fruit vinegar (strawberry, raspberry, pear)
2 Tbsp. extra virgin olive oil
1/2 tsp. salt
1/8 tsp. ground black pepper
2 Tbsp. toasted sliced almonds (optional)
Well, there you have it, two simple, delicious, salad recipes that you too can add to your meatless meal plan. Remember, you can always visit Birds Eye to learn more about these simple salads and much more.
Visit Birds Eye® on their social media and website: Website | Facebook | Twitter | Pinterest |