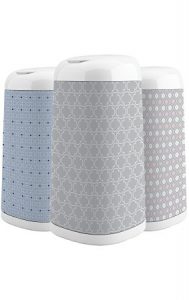 One of the first things we do to get ready for baby is to pick out a theme for the nursery. You pick the characters and color schemes. But one thing you normally have to give up a little style for is the diaper pail. Sometimes you even forgo a diaper pail because of the lack of color choices. I know I did.
The one place you don't want smelling like diapers is the nursery where you and baby will be spending a lot of time. It's maddening that you spend all this time and money to have a nice calm place for your new addition only to have a diaper pail that feels out of place. But a normal garbage won't keep the stink out. You need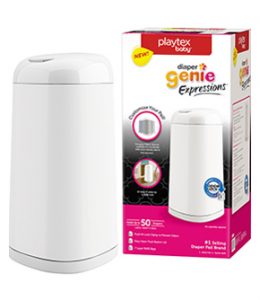 something that will match your nursery while still looking good.
Diaper Genie has come up with a brilliant way of putting the style back into your nursery. They have added a sleeve that goes around the Genie. This amazing sleeve comes in 6 different styles and is made from real fabric. Sure to fit right in with any nursery. They are interchangeable and washable. The best thing is you still get that outstanding order control you expect from Diaper Genie.
Having a diaper pail in the nursery is so much better then old grocery bags on the front porch. Although the grocery bag is an effective way of keeping the odor out of the house it really doesn't help your curb appeal. There's nothing better then being able to put a diaper in your Genie and walking away knowing your nose is safe.
Customize your pail with designer fabric sleeves or keep it white for a sleek look

Stylish, customizable design to match your nursery décor

Maximum odor control of a Diaper Genie disposal system

Customizing your pail is as easy as 1-2-3

Holds up to 50 newborn diapers so you won't be constantly emptying