This Little Tikes – Lil' Ocean Explorers definitely lives up to its name. If you have a busy little one crawling around your house, this toy will keep them busy! It's a perfect gift for Christmas or a birthday. I love that my grandson will be able to use this as he grows and enjoy endless hours of fun, (well at his age right now even 10 minutes at a time will be wonderful).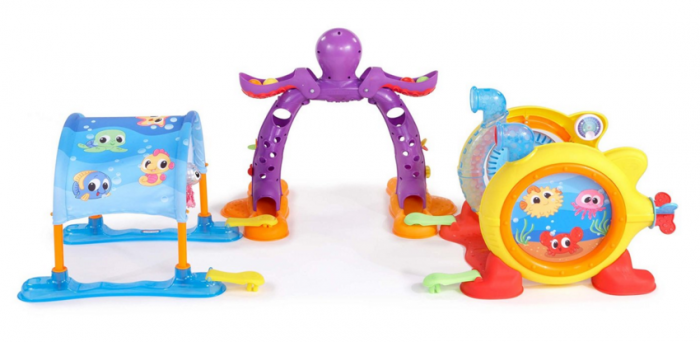 About the 3-in-1 Adventure Course:
The 3 in 1 Adventure Course (on Amazon) will entertain your baby as well as keep them stimulated throughout 3 key developmental milestones. This toy is great for ages 6 months to 3 years old.
When sitting, your baby gets tactile with features like the submarine Peek-A-Boo door, the marine stretch wall, ball drop periscope and multiple clicker knobs.
When crawling, watch your baby explore the course, discovering new ways to play.
Then when they are standing, through sounds and phrases from their new octopus friend, your baby will be encouraged to play ball!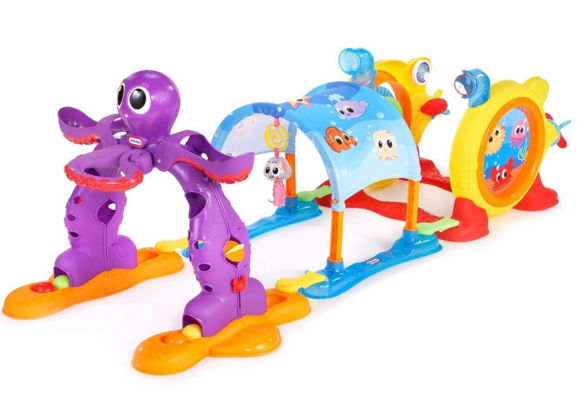 Product Features:
With three interchangeable play stations for multiple course combinations, you will be able to keep your baby entertained with the different station set ups.
There is the:
• Submarine play station: Peek A Boo door with rotating wheel, ball drop, stretch wall, clicker knobs and spinners
• Underwater play station: Crawl-through canopy and repositionable rattle link toy
• Octopus play station: Pull-me-up handles, ball drop, clickers, spinners, rewarding sounds and phrases when baby stands!
• 20+ encouraging reward sounds babies will love (these are so much fun).
• Batteries: 3AA required (not included)
• Ages 6-36 months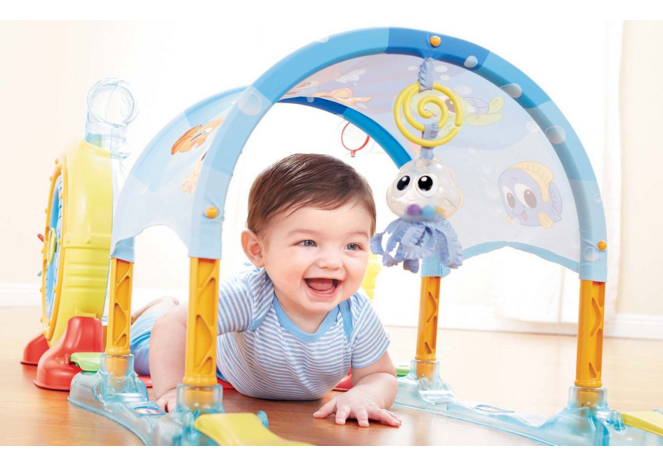 From the Manufacturer

Little Tikes created Lil' Ocean Explorers

to help babies learn to sit, crawl, stand and walk. We believe that little bodies were meant to sit up with pride, little arms were meant to reach new goals, little legs were meant to stand up tall, and little feet were meant to chase big dreams. The line features lovable sea creatures designed to help develop fine motor skills, coordination and confidence.
The 3-in-1 Adventure Course is definitely the toy to get this year to put under your tree for your baby/toddler. Not to mention that Little Tikes is a name brand you can trust, so you know you are purchasing quality.