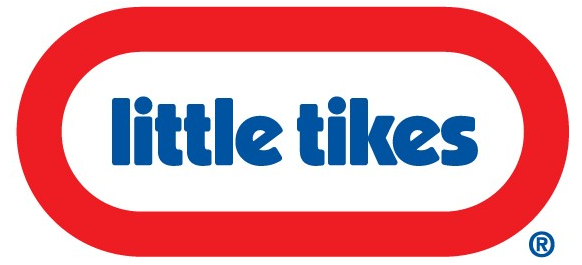 When it comes to purchasing toddler toys I always find myself gravitating towards fun, well made, and multi-functional toys that can grab a child's attention and keep them entertained for hours. The first step is seeing if it entertains ME. haha! If it loses my attention right away then I know my toddler grandson Baby E will not be impressed.
So, of course I spend quite a bit of time in the toy store seeking out unique, and "in your face" toys that have plenty of bells and whistles. Usually the bigger and more functions, the better for me Baby E. hehee! You may laugh but I see other adults in the aisles playing with toys. Hey, I'll never grow up!
With Little Tikes, who would want to?!
One brand that always fits the bill for us is Little Tikes. They have a wide variety of kids indoor and outdoor toys for different ages and stages of development. Plus, their stuff is very well made. Believe it or not we still have toys from the early 90's. They survived my 3 kids and now will go through another play "stage" with Baby E— there is no doubt in my mind they will still be all-in-one-piece after he's done!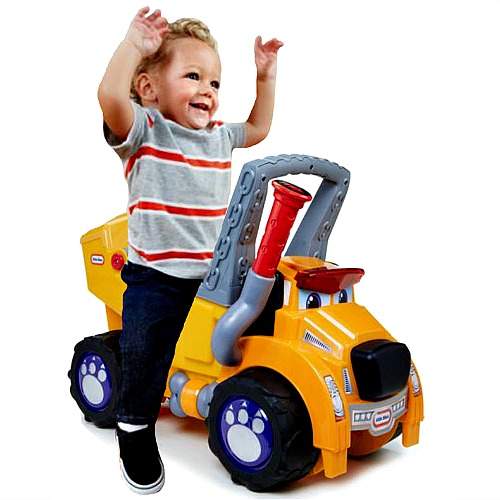 My newest favorite Little Tikes toy is the Big Dog Truck ride-on & walker. This toddler toy is a walker, ride-on and dump truck in one and is SO much fun to play with. Baby E will surely get a lot of use out of this one— it's made for kids ages 1-3 and was made for rough play.
The Big Dog Truck has the look of a dump truck with 4 wheels but that's not all. When he's in ride-on mode the handle acts as a safety feature (giving your child somewhere to hold on) as he or she zips around from one "job" to the next. When they're ready for work they can either sit atop Big Dog or walk behind him as he scoops up and dumps the included boulders.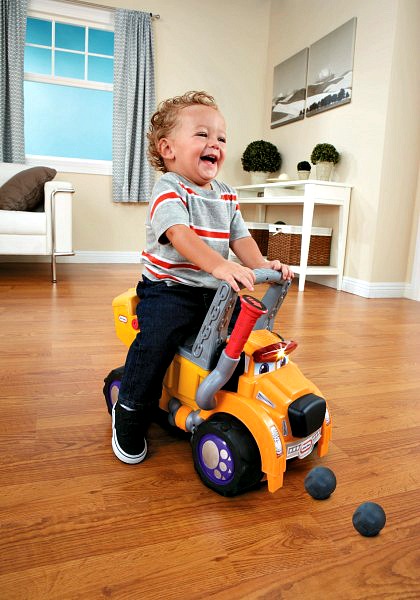 Big Dog also lets you know he's at work as he lets out 7 different sound effects— Grrrrr! Vroum!!! He's a tough working dog.
BIG DOG FEATURES:
The Little Tikes Big Dog Truck measures 19.50″ x 8.50″ x 11.75″ and weighs just 4 pounds.
This super fun toy helps toddlers build large and small motor skills and is very stimulating visually with it's bright, vibrant color scheme. Press or bump Big Dogs nose and/or light bar and he makes sounds. Plus, while he's "eating" those boulders he makes a chewing noise. Mmm, yum yum!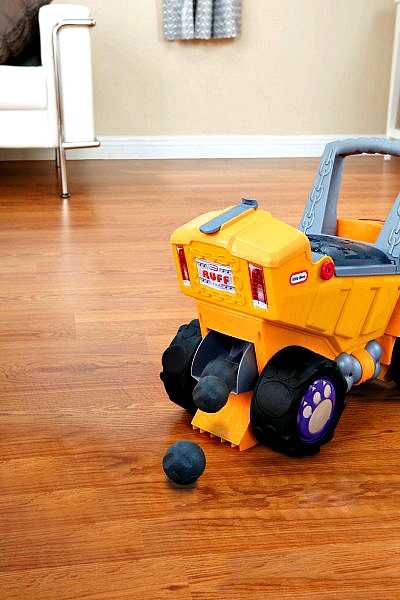 To dump the boulders, push the smoke stack forward and they exit out the back. When not in use, the boulders can be stored in Big Dogs seat. Yay, no mess! For those of you concerned about battery usage, there's an On/Off switch so it's not draining batteries when not in use. That's a huge plus!
Big Dog is easy to assemble and does not require tools. Woohoo! He's made to accommodate children up to 50 pounds and is simple to clean with a damp cloth.
Perfect for "Big jobs"— Big Dog provides hours of creative play!
Connect with Little Tikes: Shop | Facebook | Twitter