I am a giant animal lover. I have several cats, dogs and then a couple rodents and fish as well. I am constantly looking for new things that will make my life as a pet owner, easier. One thing I loath doing, above everything else, is the daily scooping of the cat box. I love my purrfect pals, but I can not stand the catbox. I feel like it is staring at me and mocking me every scoop I make. If you feel the same as me, you really need to try the Litter-Robot. This thing is the answer to all of my catbox problems.
I have had the Litter-Robot for about a month now and I can not imagine a day without it, in my life. I am happier, my cats are happier and everything is just so easy now! I do not smell a litter smell anymore. No matter how diligent you are, there is always a litter smell. My friends have made comments about how it did not smell before, but they knew I had cats. They say, if it was not for actually seeing the cats, they would have no idea we have even 3 of them! That is a giant win in my book.
The Litter-Robot is so easy to clean. You just remove the bag and replace it. The box does all of the scooping for you. To top it all off, a light will come on when it is time to change the baggie. One of my cats jump in, use the facilities and once it has left the box a timer goes off. It just makes sure that no cat is still in the box before starting. I think my cats would never use it again if it kicked on, while they were in it. Then it turns completely upside down and then turns back around. It even goes as far as going further in the opposite direction to make the litter level and ready for the next use.
There is one large cat in my house, and he is pretty big fella. Even after losing a bunch of weight, from his over eating and lazy ways, he is still a giant cat. He basically dwarfs my other cats, and it had me concerned on him fitting in the box. We have tried so many boxes and only a few gave him enough room to maneuver and do his business. This box gives him ample room to go and I no longer have to worry about it. Some doubts may have come to mind about them using this box at all, it is a lot different from every other box we have ever used. They took to it with no complications, and that put my mind at ease.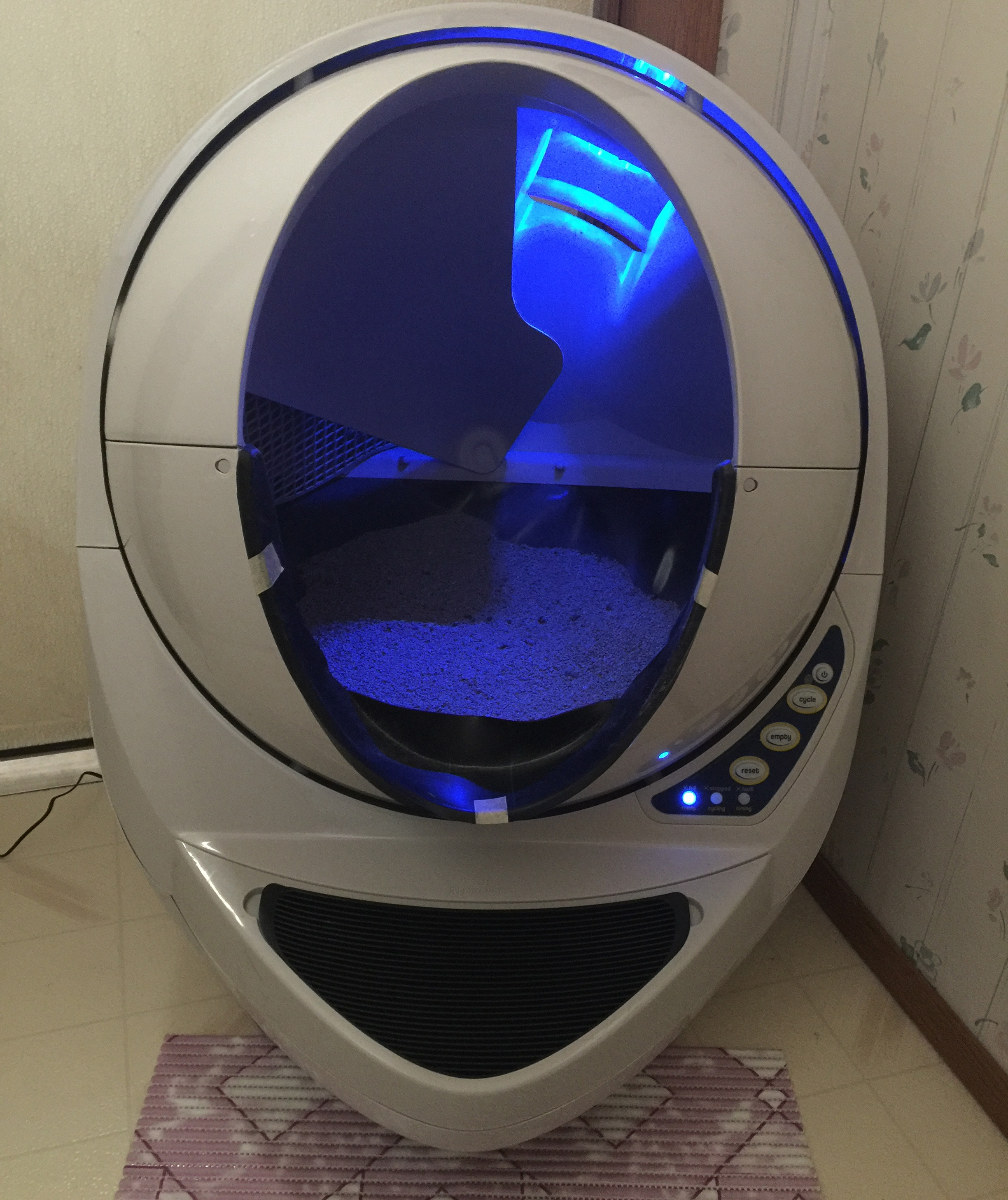 One thing I really enjoyed about the Litter-Robot is the nightlight feature. Some people may not know this, but as cats age their night vision can sometimes be a bit wonky. Yes, wonky is the medical term… okay maybe not. Regardless you can toggle this feature on and off if you choose. My cats range from 14 years to younger and I think the oldest really enjoys this feature. Plus when I get up in the middle of the night wanting some water, I have a nightlight too! Something worth thinking about, when shopping for elderly cats.
If you happen to have your Litter-Robot near a bedroom and do not want to be disturbed by it running, there is a Sleep Mode feature you can turn on. If won't run for 8 hours, unless you press the button to cycle it. There was some concern that it would keep me up at night, as the Litter-Robot is in the next room to my bedroom. It is not really that loud, but since I was not used to it I decided to use the feature. So while I am in bed, I do not hear it. However now, I am so used to it, I do not hear it when I am sleeping anyways.
Mom Blog Society has partnered with Litter-Robot during their 25 Day of Christmas! There will be 120 prizes with only 30 winners for 25 days! It starts today and will run up until the 25th. There will be a total of $35,000 in prizes. You can enter here: free.litter-robot.com Good Luck!
Connect with Litter-Robot: