Flocabulary is a new, interactive learning app that uses educational hip-hop videos to engage students. Used at over 20,000 schools across the country, Flocabulary is a great tool for getting kids interested in learning.
Flocabulary offers over 800 fun, informative hip-hop style videos in seven categories:
Language Arts
Math
Science
Social Studies
Life Skills
Vocabulary
Current Events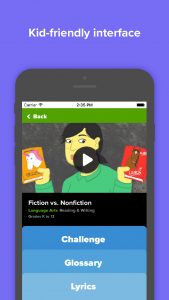 Designed for K-12 students, each category is divided by grade level so you can choose the right learning path for your child. Each video includes a Challenge to test their knowledge, a Glossary for reference and Lyrics so they can sing along!
My favorite part of Flocabulary is the Life Skills section. I love that they aren't limiting kids to just the basics of math and vocabulary. With Life Skills, kids can learn financial literacy including budgeting, banking, how credit works, home buying, and more. They can also learn about valuable social skills like internet safety, managing feelings, bullying conflict resolution and test taking skills.
Research shows that parents and kids alike want more at-home tools to supplement their school work. And in this digital age, fun, modern apps are one of the best ways to reach kids. Does your child's school use Flocabulary? If not, why not share this great learning tool with your kid's teacher?
"I am beyond thrilled to see a mobile Flocabulary app coming out. I love walking into a classroom when Flocabulary is happening; you see students bopping their heads, dancing, jamming in their seats, and totally engaged. I can't tell you how many times I've had parents ask me about a Flocabulary video that their kids were talking about at home. It isn't very often that kids run home to tell their parents about something they did in school, so I'm excited to be able to capitalize on that enthusiasm and involvement."
-Allison Schalk, a parent and Digital Learning Coach in Indiana.
Flocabulary has been featured on ABC, The Today Show, MTV, CNN and more. It has also been selected by Apple as #1 "New Apps We Love" on the Apple Store. Flocabulary is available for download on iOS and Android for $4.99 with a 7-day free trial option. There are also several plans available for schools and districts. So what are you waiting for? Start your child down the right path and download today!