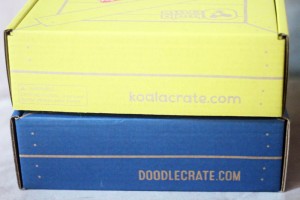 Creativity is important for everyone – young, old, and in the middle. For me, it has always been (and still is) an outlet. For my toddler, it's a way to keep those little hands busy in a positive way, and that little mind thinking. Kiwi Crate's family of craft boxes has something for everyone!
"At Kiwi Crate, we design hands-on, open-ended learning and creativity kits for amazing kids! Shop our assortment of project kits for kids, and choose a monthly or one-time crate with exciting, educational themes like art, science, games, and music…delivered right to your door. Or get inspired by hundreds of kids' craft ideas on our DIY Ideas site – like kids' paper crafts, crafts for preschoolers, christmas crafts, and DIY crafts."
Kiwi crate has a few box types – Koala crate (for ages 3-4), Kiwi Crate (ages 4-8), Tinker Crate (ages 9-14+) and Doodle Crate (for 9-16+).
My two favorites are Koala Crate – perfect for my little boy, and Doodle Crate – for the teen-at-heart that I am.
Koala Crate for your little learner:
I'm a big believer in learning in a hands-on and creative way. I was always a creative learner. If I made it, I remembered it. If I just heard it, it would simply slip my mind.
The bug themed box engaged my son for so long! He enjoyed putting the felt stickers on the bug wings. He was SO proud, wearing the wings/cape and the hat for a few days straight! I love that it came with a craft that produces a functional product in the end. He is also obsessed with the "bug viewer" that came in the box.
The crate is for slightly above his age level, so we enjoyed most of the things, and a few I put away for him. It came with "bug matching cards" so that we can spot the differences. He enjoyed playing with those, and we named the colors, then put it away for when we can do more. It also came with an activity book, which we put away.
Doodle Crate for tweens, teens, and teens at heart: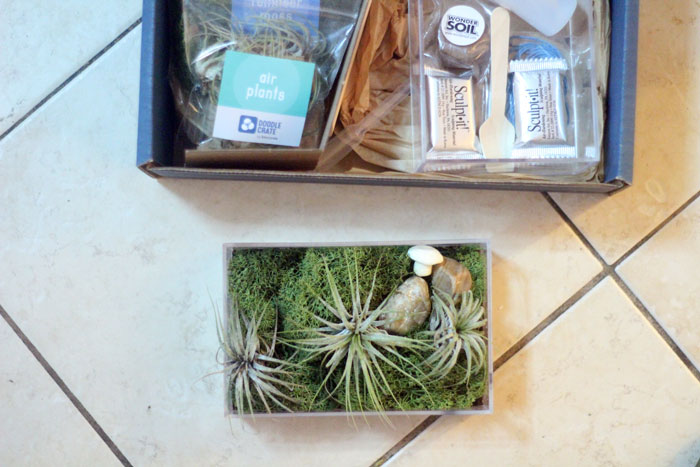 I admit, I don't have a teen in my home. My own blog is full of crafts for teens – all of which I made for myself just because I enjoy it. And I absolutely loved this month's doodle crate. I can see how anyone big enough to do the activities would enjoy it. Even my husband, who has no interest in crafting, had fun with it.
The Doodle crate came with all the supplies to make… a mini terrarium!
Not only that – it also came with a little extra to make an air plant jellyfish! How stinkin' cute is that?
The kit had in it literally everything you need – air plants, moss (that smells like heaven), the container for the terrarium, dirt, and even a mini spade! It was open-ended enough to allow us to have fun, but still came with enough instructions that we wouldn't botch it.
It came out so cute, and is now displayed with pride in my home. I love that it does not just give typical crafting options – but all sorts of crafts. I would never have thought I can create a terrarium, but once I got my hands on it, I really had fun. I am already planning my next one…
The Kiwi Crate family of craft kits are definitely innovative. They have everything you need to learn, create, and think – for the whole family.
Connect with Kiwi Crate:
Disclaimer:
This product was received from the Company for review purposes only. All thoughts and words in this post is my own and I was not paid to endorse it. I am only voicing my opinion about this product.