As I was growing up, I spent a great deal of time in my grandma's kitchen, helping her cook and bake. She would throw her apron on, and make a day of preparing warm meals for our family. Everyone gathered around the twelve-person dinner table, and we'd spend the evening playing cards, laughing, and grazing on the food she made. Since I was a little girl, I knew that when I grew up I wanted to have a loving home like hers.
She definitely taught me a lot about cooking. Mostly she taught me how much better everything was if you added sugar and butter. I can cook you a meal full of diabetes and love, which is why my husband is the primary cook in our home, but I get to do the baking. We absolutely love preparing food for family and friends – and like most families, our family always gathers in the kitchen. So many of our evenings are spent cooking, eating, talking, and playing games in our kitchen. It has become the heart of our home, which is why it is so important for us to have a warm, inviting area to gather.
Our home is a busy one, as we are a blended family of seven children. We are always on the go. Between running to and from to our children's school events, and sporting games, we need to know we can count on the quality of the appliances in our home. As we researched, we stumbled across GE's Premium Finish Options.
GE Appliances was founded in 1905 and has consistently provided top quality appliances in millions of homes. When we were designing our kitchen, we knew that we wanted a superior product with a sophisticated design. We have had stainless steel appliances before, but found that keeping up with cleaning nine sets of fingerprints off of the appliances can be tedious and annoying. That is why we love the black stainless appliances are fingerprint resistant and easy to keep clean.
Score!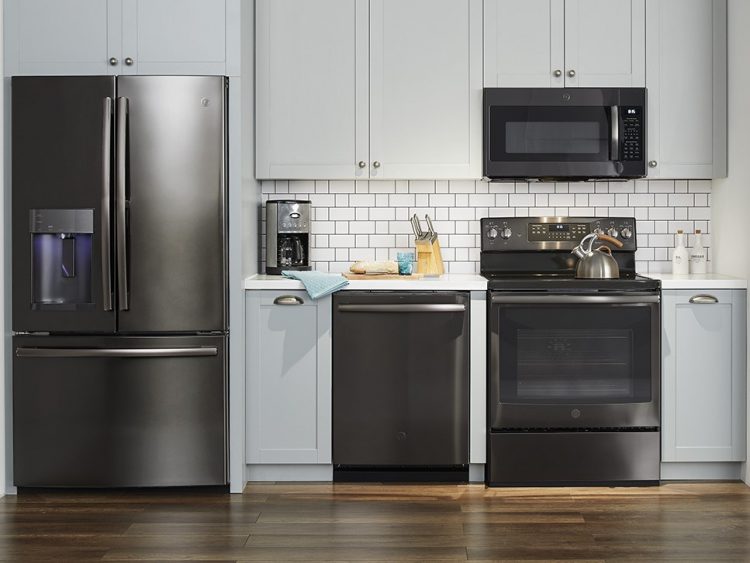 Want a kitchen where you can make memories with your family? The GE Premium Finish Appliances at Best Buy will give you a sleek style you desire, while still adding warmth to your home. You'll LOVE the contemporary brushed metal appearance of stainless steel with a glossy, bold black hue.
GE is the leader in premium finish options, giving shoppers the ability to design a unique kitchen package suited to personal needs and style. Focus on Black Stainless Finish:
Bold and sophisticated appearance
High-gloss finish that makes a statement in any kitchen
Fingerprint-resistant and easy to maintain and clean
Black Stainless was designed for those who want to make a statement. Combining a glossy, bold black hue and the contemporary brushed metal appearance of stainless steel. Black Stainless adds sleekness and originality. It wipes clean in seconds, remaining free from smudges, but full of character.
Next time you entertain your family and friends, impress them with appliances that make a statement! With GE Premium Finish, you can't go wrong.