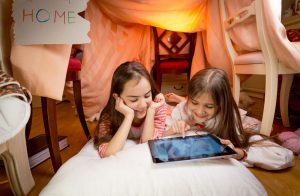 If you have kids, you're undoubtedly familiar with online games. You've probably seen endless versions of the "Fortnite dances" and heard all about the worlds they have created on Roblox and Minecraft. What you probably haven't heard, though, is how potentially dangerous these and other online games can be if you don't take precautions.
Online predators use these games to target victims, but that's not the only issue. Online bullying, inappropriate language and behavior and viruses and identify theft have all been tied to online gaming, leading many parents to ban (or consider banning) the games from their homes. However, with the right protections and education for your kids, online games can be fun and educational and perfectly safe.
If your kids play online, or you are considering allowing them to start playing, follow these rules for ensuring that they remain fun and safe.
Install Antivirus Protection
Before allowing your kids to join any games on a computer or mobile device, protect them with advanced antivirus and antimalware protection. Make sure all operating systems are updated (and updated automatically as necessary) and that your firewalls and other protections are enabled. Make sure your kids are only downloading or joining games from official apps or websites and servers, to avoid potential security risks to your devices.
Use Parental Controls
Many games and consoles include parental control options that can limit the amount of time kids can play, what games they can play and the features they have access to. Set these controls to your own preferences.
Establish Rules and Expectations
One of the most important aspects of keeping kids safe online is to establish rules and expectations for playing games and remaining consistent with enforcing those rules. For starters, do not allow your kids to have computers or internet-connected consoles in their rooms. When gaming must be done in a common area with parental supervision, the likelihood of a problem decreases significantly. You should also establish clear rules about when games can be played, which games can be played and what activities children can do. For instance, many games allow players to chat with others around the world. For safety, do not allow your children to talk with strangers or disable the chat features altogether.
Educate Your Kids
If kids are old enough to play online games, then they are old enough to learn about the dangers present on the internet. Remind your kids that not everyone online is who they claim to be and that they need to be cautious about who they talk to. Help your kids create their own profiles, letting them know that they should never reveal their real names, addresses, age, school or what activities they participate in to strangers online.
Learn Reporting Procedures
Every game has methods for reporting inappropriate or abusive behavior and language, and you and your kids should know how to use them. Talk with your kids and help them identify things that need to be reported. Because some kids may be reluctant to discuss bullying or other problems out of fear that you'll take the game away, ask them questions about their games and what's going on. Keeping the game consoles in a shared area of your home can also help you nip problems in the bud. Try to keep your eyes and ears tuned to what's happening, so you can intervene if things start getting out of hand.
Play With Them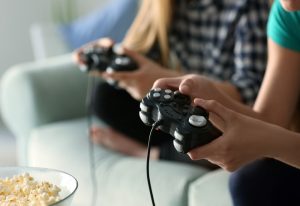 One of the best ways to keep your kids safe when gaming online is to play with them. Even if you are hopeless and can't get past the early levels, letting them show you their worlds and playing with them not only strengthens your relationship with your kids, but also gives you an idea of what's happening in their games. You can ask more relevant questions and understand what they are saying when they tell you what's happening — and spot potential problem areas before they become issues.
With all of the dangers online, it's probably tempting to simply not allow your kids to play their favorite games. If you stay involved, though, and keep tabs on what your kids are doing, these games can be perfectly safe.