Creating an office environment of your own can be quite tricky; most people start at home and don't go anywhere else, but if you're someone who has a physical office location to make good use of, you need to be sure it's a nice place to be! You want your team to enjoy their time there, and to settle into more of a family structure, that both upholds your company's ideals and creates a positive working environment.
So, when it comes to designing your new office, you're going to need the right layout and the right equipment to really make a go of things. And to help you out with this process, we've included some working ideas below.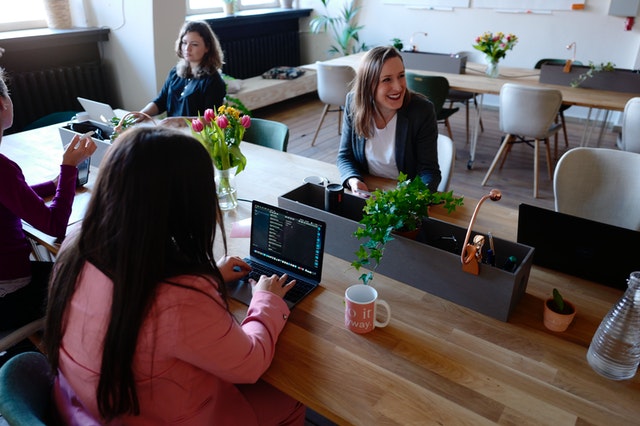 Communication Needs to Be the Basic Design Principle
Your team needs to be able to talk to each other, and they need to be encouraged to do so as well. When you're working in an office 8 or so hours per day, you need to be able to keep in contact with those around you, and when you're shut off from each other in cubicles or private, frosted glass offices, this kind of communication just won't happen.
There Needs to Be Plenty of Light
And it needs to be natural light! This is the kind of light that wakes us up and keeps us feeling bright and able, and without it, the office will be a dark and dingy kind of place. This just isn't good for team morale. Not to mention just how bad the effects of overhead, artificial lighting is – it can really hurt your eyes and make you strain when looking at a computer screen.
Keep the Air Quality at a Constant
Air quality in the office needs to be of top standard. It needs to be clean and breathable, and it needs to be the perfect temperature as well. Having an air conditioning unit put in place can be the answer to your needs here, but make sure that you often take a look at how the reciprocating air compressor inside of it is doing. Without these regular checks, a breakdown can happen at any time, and that will be both costly to fix and ruin the entire atmosphere of your office.
Keep Things Moving
Then we come to the idea of traffic. You need to keep things moving around your office, and to do that, you're going to need free flow areas. You're going to need pathways in and around the desks that people won't have trouble getting around, and that will always be perfectly safe – no wires to trip over here please! Create set sections for your staff to be in and out, and make sure there's more than one way to get in and out of the main working area.
Your office needs to be a nice place to be, to both encourage your team and keep your business operating efficiently. So, make sure you keep the above tips in mind.