While the internet erases borders between countries, streaming services remind users that things are not that simple. Netflix, Hulu, BBC iPlayer, Disney Plus, and many other video-on-demand platforms limit the content you can access in your country. TV series that are available in the US might not be available in Japan or Spain. However, with NordVPN on your device, you can watch anything you like with no restrictions.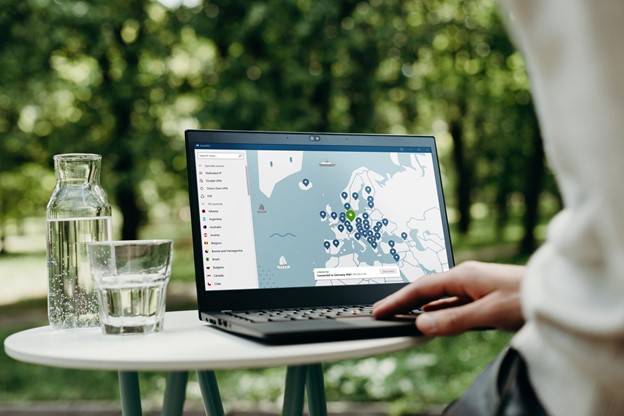 Why is some content not available in your country?
You might have bumped into the "Video is not available to watch in your area" message on streaming platforms at some point. Due to licensing agreements, some movies, TV shows, or sports games are blocked in certain countries.
And, if you're a frequent traveler, you might not be able to access your favorite shows from abroad, even though you've paid for a subscription. Streaming services will detect that you're connected to the internet in a different country and will limit what you can watch accordingly.
Even some videos on YouTube can be inaccessible, and you'll be doomed to search for alternatives.
Luckily, with NordVPN, you can stream your desired content anywhere, anytime — grab a 2-year NordVPN subscription with 65% off.
How to unblock content on streaming platforms
Your device's IP address reveals your location, which is enough for streaming providers to filter content. NordVPN is an app designed to bypass geo-restrictions — it allows you to watch videos from anywhere in the world.
When you enable NordVPN on your laptop, smartphone, tablet, Android TV, or router, it changes your IP address. You might be located in Canada, but your IP address would make it look like you're from Italy, Australia, or any other country.
NordVPN has more than 5,400 servers in 59 countries. You can hop between servers on different continents with one click and stream content that is not available in your region.
While some readers might be intimidated by terms like "servers" and "IP address", using NordVPN is easy. You don't need any prior technical knowledge to change your IP address and unblock content. The app is user friendly, and anyone can navigate it with no trouble.
Other uses of a VPN
It's worth mentioning that NordVPN has much more to offer than just unblocking Netflix or Disney Plus. The app can also improve your online security and privacy.
NordVPN uses strong encryption to protect you from hackers, snoopers, and curious neighbors. If you often use streaming services on public Wi-Fi, having a VPN turned on is a must. Wrongdoers can set a fake hotspot, wait for you to connect, monitor everything you do online, and steal your sensitive information.
People often watch TV series while connected to public networks in cafes, parks, and trains. This is the perfect setting for criminals to launch an attack and wait for somebody to take their bait.
How to set up NordVPN
Installing NordVPN is no different from downloading any other app on your device. It takes only a couple of moments to set up an account and start using the service.
Download and install the NordVPN app.
Launch the app and sign up for a subscription.
Once you have a subscription, log in to your account and start using NordVPN! Click the Quick Connect button, and you will connect to the fastest server available. You can also pick a server in a specific location from the list or tap the country's pin on the map.
Immerse yourself in your favorite TV shows and movies.
If you want to stay secure and use streaming services with no limits, we recommend keeping NordVPN enabled at all times.
Unblock your favorite TV shows and sports events with NordVPN. Get a 2-year plan with 65% off now!