Does your baby get excited when you take him out for a stroll in nature? It's not only an enjoyable activity, it can also help with your baby's mental development. But on a hot summer's day, you will need to take extra care to keep your baby safe in the heat. It's essential to protect your child from the scorching rays of the sun.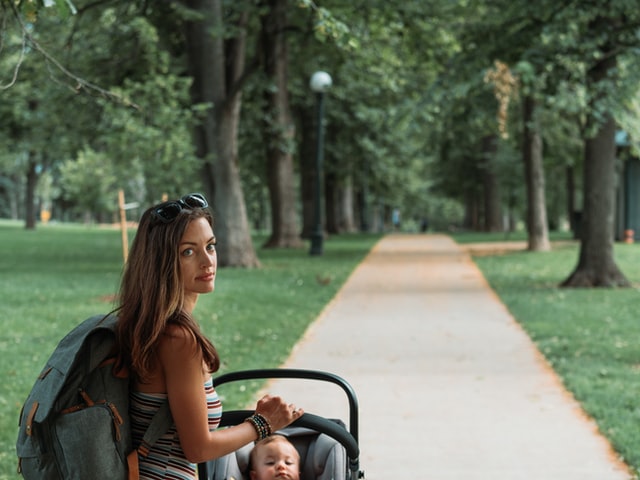 Keep your baby cool in his stroller Source: Unsplash
Young babies have sensitive bodies and they can easily become dehydrated, plus their sensitive skin makes them more susceptible to sunburn. Luckily, there are many safe and comfortable ways that you can use to keep your baby cool during the hot summer months.
Tips to Keep Your Baby Cool When Out and About
The hottest times of the day are between 10 a.m. and 3 p.m. When it is really hot outside, take your child out for a walk in the early morning or the late afternoon, when it is a bit cooler in the stroller.

You can also protect your baby against overheating by making sure the stroller has a proper sunshade. A

stroller sunshade

will protect your child against direct sunlight and harmful UV rays. If your stroller only comes with a small top, you may need to get extra sun protection for your baby.

There should always be proper airflow in the stroller. Do not enclose the stroller completely or close the front of the stroller seat on hot days. Airways and screens should also be open.

Try to always walk in the shade with your baby, and don't spend a lot of time in direct sunlight.

Dress your child in light summer clothes. If the air can pass through, the baby will be able to stay cool.

Bathing your baby before a walk will also help him stay cool during the stroll. You can also wipe your baby down with a wet cloth or towel before dressing him.

It's also essential to keep an eye on your baby's behavior.

If his cheeks are reddening, he is almost certainly too hot.

You can check his temperature by putting your hand behind his neck.

If your baby is older than six months, you

can use sunscreen

. Apply it 30 minutes before you go outside and make sure it has an SPF of at least 15. Try to only use sunscreen with inorganic filters like zinc oxide and titanium dioxide on your baby's sensitive skin.

Babies and children also need to drink enough liquids to remain hydrated. Keep a bottle or sippy cup in the stroller.
What Not To Do
Do not drape a blanket over your baby's stroller while enjoying a walk outside, as ventilation will be limited. You may think you're shading your little one from the sun, but even a thin cover can cause it to become extremely hot inside and reduce airflow.
What To Do if You Think Your Child Has Overheated
Check on your child frequently, especially when you're outside on a hot day. You can assume your baby is too hot if they're sweating and they're warm when you touch them. Look out for serious signs such as if the baby is breathing very fast, or you're unable to wake them.
If you think your baby may have heat exhaustion, get them into an air-conditioned room right away and give them plenty of fluids.
If your child is not reacting or responding and not keeping fluids down, seek emergency care.
Final Thoughts
While it's important for your baby's development to get them outside, consider keeping them indoors on the hottest days of summer. Babies have sensitive bodies and it's easy for your baby to overheat and suffer the negative effects of the warm weather.