Smiles & Frowns is a positive behavior app made by parents, for parents, and we hope on our "5 Cs" of success can make a difference for you this summer. Get it now on you iPhone or iPad for free!
The road to good behavior? It's a two-way street.
Sometimes it's good to back the truck all the way up and look at the big picture again. And the big picture with Smiles & Frowns is that it's really just a tool to help adults and kids work together on good behavior. Making agreements, setting goals, reviewing progress, celebrating success… all of these things make good behavior a healthy conversation. And conversation, by nature, is one of the most basic forms of collaboration.
Collaboration, the fourth of the 5 Cs
Collaboration doesn't just keeps everyone in the game. From this Dad's experience, it's also really effective. After all, how motivated are you when someone's talking at you instead of with you? That's a really good time, right?
For kids, collaboration is even more because they're still learning how to make things happen. That's why the idea of making contracts and agreements with kids is such a big deal. It gives them a voice and a choice. And that's why we've built Smiles & Frowns allow collaboration in four important ways.
Collaborate on Setting Expectations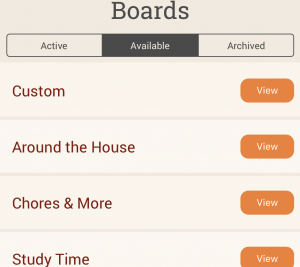 We've tried to make Smiles & Frowns really fast and easy to set up by including preset "boards" that automatically include the most common behaviors in sets like chores and studying. But these are super easy to edit, customize and review with your kids. By design, it's a great opportunity for you to talk about expectations and get everyone to agree to the "rules of the game." And when they know all the available Smiles, by the way, they'll know more ways to earn the rewards they want.
Collaborate on Creating Rewards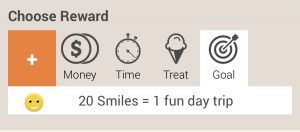 And speaking of rewards, there's an old rule of them here: Whatever works, works. Motivation is a funny thing, and one kid's handful of M&Ms is another kid's visit to zoo.
So even though we'll put in some preset rewards – again, so you can get up and running fast – we've also made it super easy to create custom rewards of your own. All rewards have been broken down into Money, Time, Treats and Goals, and you can sit down with your kids to create their own custom rewards in just seconds. There it is again Collaboration.
Collaborate on Reviewing Performance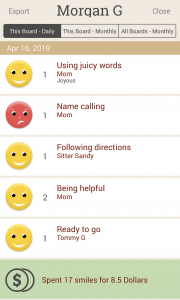 Another way we've tried to make this app different is by putting a huge emphasis on reviewing performance. It's one of the four main functions of the app. Just tap on your child's picture or icon, and you'll see a list of all the Smiles, Frowns and Spends that they've done. We think this is a huge deal.
It creates a great opportunity for you to sit down with your kids on a regular basis and give them praise and encouragement for their accomplishments, as well as acknowledging their challenges. They can feel proud about what they've been able to do, which is powerful.
Also, you can export their progress as a PDF and share it anytime you like. This can be a game changer when you're working on their behavior with a therapist or teacher. "How is he behaving at home? Let me email you the last six months…"
Collaboration Between All Caregivers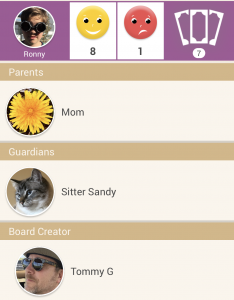 And last, but certainly not least, is the way Smiles & Frowns lets you invite other Parents and Guardians to your board to collaborate on the plan. Everybody is automatically in sync and on the same page.
And for kids, that means one set of rules and one set of expectations. No more Mom vs. Dad. Or the babysitter vs. Mom. (Or Dad vs. himself because he can't remember the plan. Yes, I've been there.)
This summer break, great behavior may just need a new plan. With Collaboration and the rest of the 5 Cs, yours can be one that brings the whole family together as the weeks roll on.
Good luck out there!
Tommy G
A Smiles & Frowns Dad
Next week, the 5th C: a game-like sense of Challenge. Because we all want to win!
Previous Posts in this Series:
Two Dads, One App and the 5Cs of Great Summer Behavior. #1: Clarity
Smiles & Frowns & the 5Cs of Great Summer Behavior. #2: Consistency
With the 5Cs, Your Kids Will Tell Themselves to Behave. #3: Consequence
How the 5C's Make Great Behavior a Team Sport. #4: Collaboration