Playing is the foundation of children's growth and development. This activity works to assist children to develop in communication, social interactions as well as language. Apart from developing these skills, play enables children to gain strength through exerting energy. In the process, they are able to avert health problems such as obesity, which is known to cause a broad range of health complications. Playing can either be indoors or outdoors. Playing can either be indoors or outdoors. Among others, some of the most common games children find more interesting include sliding, swinging, and peek-a-boo.
Here are some ways on how playing impacts development in children:
Elevate cognitive skills
Playing has an impact on memory, intelligence, and learning. According to studies conducted on rats, the cerebral cortex learns faster and retains memory when exposed to a stimulating environment. These findings are similar to what happens to the human brain when subjected to the same conditions. Another study conducted by the University of Arkansas reveals that children who are offered toys from a young age tend to have a higher intelligence quotient.
Enhance creativity
Playing is associated with creative thinking, which in turn fosters mental growth. During free play, children have the capacity to get creative by exploring numerous solutions to solve an underlying puzzle. Eastern Michigan University has proven this to be true from a study they conducted. Pretend play and imaginative sports like dream garden play also play a major role in enhancing creativity. When children attempt to play certain scenarios, they are bound to channel their imagination to achieve the desired goal.
Build social competence
When children master this skill, they are bound to be happier and empathetic. Also, their social interactions improve significantly when they play with other children. In the process, they learn to coordinate, self-control as well as how to follow rules. Often, children who are playful have been found to be well adjusted, cooperative, and interact well with others even in a new environment.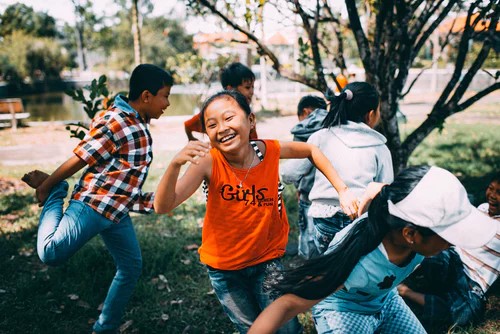 Improve physical health
Children who engage in physical play often have better health and improved fitness. When playing, they get to release energy through loud voices and vigorous activity. Physical play enables them to develop fine motor and gross skills which ultimately help them learn and socialize. Importantly, is that they have also mastered the art of endurance which benefits the brain remarkably.
Develop life skills
When children play, they get to learn problems encountered in daily life which makes them adopt coping strategies. Playing enables children to rehearse skills which are paramount to their future roles. Also, they get to bond with other children, siblings, and guardians which makes them nurture superior relationships.
Playing is the best thing a child at a young age can do. From infancy to about the age of five years is when children brains' develop fully. By the time they turn three years, their brain is about 80% developed and at five years, it is 90% developed. A child may start by learning how to play with toys and as they grow, they may learn how to play with their peers. When they get to the school going age, their brains are often well developed such that they can grasp things well in class.