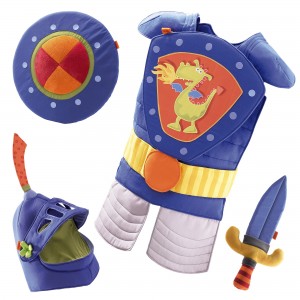 My 4 year old daughter loves to dress up. She has all the Disney princess dresses you would expect a little diva to have. Prancing around in her dress ans dancing is one of her favorite things to do. My 2 year old son sees how much fun she is having and wants to join in on the fun. The problem here is he doesn't have any dress up clothes of his own, so he dresses in one of his sisters dresses. Now we are a pretty progressive family and believe a dress is just clothes and if it makes him happy to wear them then why not let him? So we watching him act like a boy and chase his sister around the house, princess dress and all.
Ok I gotta admit I think it's all pretty funny and adorable. I can't help but smile. My husband however, as adorable as it was, wanted us to find him boy dress up clothes. Convinced that it was the act of dressing up that our 2 year old was wanting, not so much the dress. I had to agree with him. I also wanted to give my son options to choose from.
When I saw the HABA Strong Knight costume I couldn't help but squeal a little. It was so cute and adorable and perfect for my little mans imagination. Honestly its kinda hard to find adorable dress up clothes for boys. Try to google it. It's like the companies don't think small boys will want to pretend. HABA has a couple different costumes for boys. Both as equally adorable.
The Strong Knight costume came with a chest/armor, shield, sword, and helmet. Everything a little knight in the making needs. I was super surprised at the quality. This isn't a cheap Halloween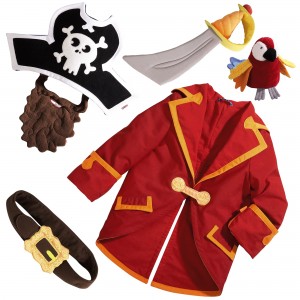 costume meant to be worn one night. This costume is plush and comfortable. Meant to be worn for hours of fun. It's washable and adjustable. It's perfect as it will grow with your child.
Now when my little princess is in full dress, her knight in shining armor is able to defend her from the evil dragon. He wears it so much that it's hard to get off of him to wash. He has stormed the castle a few times to save the princess. We will be using his costume for Halloween as well. It is perfect to put over nice warm clothes. Next step is to get him the handsome pirate costume! I can't wait to see him sailing the 7 seas.
En garde! Brave any play battle in this medieval medley of arms and armor. Little knights can slay play dragons or defend honor with confidence in this armored suit, hefty shield, handsome helmet (that opens and shuts!) and trusty sword. This adorable bundle of HABA products includes four amazing pieces: Armor: Small knights can easily put this armor on thanks to the hook and loop fasteners. The armour comes with an extra chest protector showing a fiery dragon and adjustable belt. Helmet: This cute little accessory can be flipped shut just like a real knight's helmet! Shield: Perfect for defending the Knights of the Round Table! Padded and soft core with handle. Sword: Use this sword to imagine yourself back in the days of the knights! Materials: Polyester, Cotton, Foam. Perfect for ages 3-6!
Connect with HABA!
Disclaimer: This product was received from the Company for review purposes only. All thoughts and words in this post is my own and I was not paid to endorse it. I am only voicing my opinion about this product.