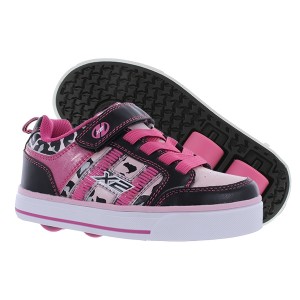 My daughter is not graceful. That's putting it mildly. She could be sitting quietly on the couch and fall off. And hit her head. And probably break an arm on the way down. She's special like that. There are times when I'm pretty sure she should be walking around with a bike helmet on as much as she hits her head. One of these days I'm going to have to hire a concussion expert. So needless to say, roller-skates are not something she has gotten the hang of yet. Rollerblades? Not going to happen. That's just an emergency room visit waiting to happen. The problem is that every time she manages to dig out her roller-skates from the latest hiding spot, she immediately wants to put them on and I have to spend the next three days explaining the bruises on her legs (I did mention she was a klutz right?).
So the hubby and I have been trying to come up with a decent compromise and may have finally found it, Heelys. If you are not familiar with the concept, they are shoes with wheels in the heels. These are great for my daughter. Oh, she still falls down. A lot. But now she has a fighting chance, instead of being completely at the mercy of roller-skates. She can get up on her own, walk around, and when she wants to zoom around and fall down, just tip her toes up and shift her weight back a little bit. Zoom. Boom. It might sound bad, but it is a definite improvement.
Did you know that Heelys offers products in both kid and adult sizes? This was total news to me! Just sitting here and imagining the adults that I know sporting shoes that allow them to skate kind of cracks me up. The visuals are amazing but that is a story for another day. After looking through the wide selection, we found the Bolt Plus X2 in Black/Pink Cheetah were perfect for my little diva in the making and as an added bonus, they light up! She is four so light up shoes definitely gain me cool mom bonus points.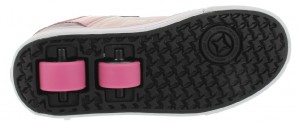 Heelys contain "a removable wheel in the heel, transforming the shoes into stealth skates and giving its users the freedom to seamlessly transition from walking or running to skating by shifting their weight to their heels. Heelys let you take life at your own pace. With the wheels out, the stylish designs perform and look just like any other shoe. When you easily put the wheels in, you roll at a different speed."
Recognized by the embossed X2 log on quarter, the Bolt Plus X2 shoe has a synthetic leather upper, vulcanized style outsole, power strap and elastic lace closure, and 2×2 double wheels. As mentioned above, it also has motion activated lights!
Heelys are perfect for anyone that is looking to add a little extra movement to their life or, if you are like me, for anyone that would like to ease into the art of skating! To learn more about the Bolt Plus X2 and other great products offered by Heelys, did I mention that they also sell backpacks and other accessories, be sure to stop by their website.
Connect with Heelys: Shop | Facebook | Twitter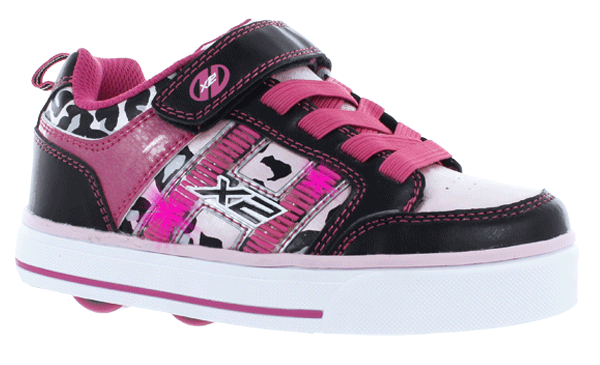 Disclaimer: This product was received from the Company for review purposes only. All thoughts and words in this post are my own and I was not paid to endorse it. I am only voicing my opinion about this product.