In an effort to try and get healthier, I've been looking for a new health drink to add to my daily life. Over the course of the last year or so, I've heard a lot of things about coconut water, including the fact that it has some amazing health benefits. So, I decided to do some research and found out some pretty cool things about it. According to WebMD, not only is coconut water low in calories, it's naturally fat-free and cholesterol-free. It also contains more potassium than four bananas, and is super hydrating.
Coconut water is apparently replacing sports drinks at every turn according to WebMD. Feeling left out of the new craze and looking for a better health drink I recently tried Invo Coconut Water and was very surprised by its great taste. I drank my first bottle before my 2-mile run. The best part was it only has 5.45 calories.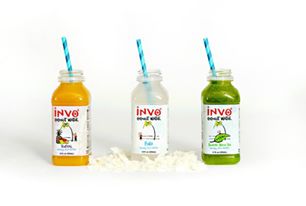 I read on the Invo website that you could use Coconut Water for cooking. They even have some recipes on their site that I can't wait to try. One of the things I like about Invo Coconut Water is they don't put any additives. If you're trying to get healthier or stay healthy, it's an important factor when deciding on a particular brand for coconut water.
You can also use Invo Coconut Water as a mixer to make some awesome tropical drinks. I'm sure my friends and I will be using this for decades to come and getting healthier at the same time.
And why is everyone talking about it?
HPP, which stands for High Pressure Processing, is a cold pasteurization technique, which Invo has named
'cold-crafting'. This process inactivates bacteria, viruses, yeast and molds that are present in all foods, thereby guaranteeing food safety and extending shelf life.
Unlike most juices, which are heat pasteurized, 'cold-crafting' only uses cold water under high pressure. Due to the absence of heat in the process, the organoleptic and nutritional properties of the food are maintained, allowing the product to reatin its fresh taste and nutrional content, just like mother nature intended.
Simply put: 'Cold-crafting' fresh coconut water gives you "The True Freshly-Cracked Coconut Water Experience".
Connect with Invo: Website | Facebook | Instagram