Children and Families Nationwide Get Set for an 'Oinktastic' Holiday Season with Peppa Pig!
Wish List of Must-Have Peppa Pig Gifts Includes Playsets, Toys,
Arts & Crafts and More!
Before I get into all that is being offered this holiday season from Peppa Pig I wanted to share some nice items I received the other day from the friends of Peppa Pig, and they are Peppa Pig Perfect.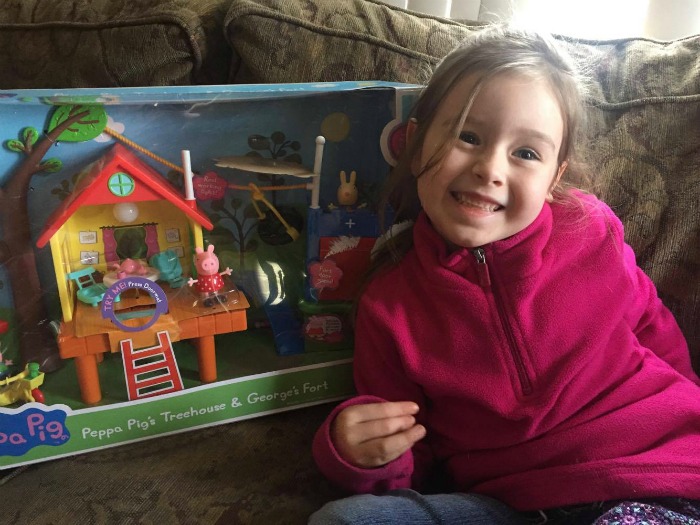 Emma was so excited when I told her we had a new box from Peppa Pig. We opened up the box and there was a Peppa Pig's Treehouse and George's Fort Playset. She almost was done and wanted to get it out of all its packaging. It is SO neat. It has a muddy puddle at the end of the slide which is squishy. Emma got quite a kick out of that. The light switch turns on the light upstairs in the tree house, and if you "step" on the rug it also turns on the light and says "Would you like a spot of tea?" It does take 2 AA batteries which are included. Peppa Pig, George, and Richard Rabbit are included with this fun playset. Grandpa built the fort playset for George since the Treehouse is just for girls. Emma said she was SO glad that Grandpa was nice enough to do that for George. This playset is recommended for ages 2 years+.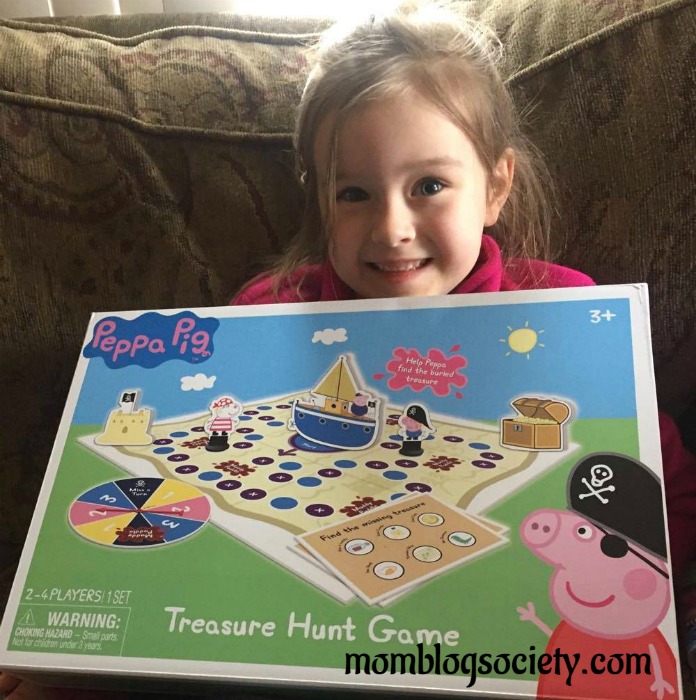 Peppa Pig's Treasure Hunt Game is a fun game but is not recommended for children under 3 years of age due to small parts. You can read more about the game below. Emma wasn't as much into playing the game due to the play set. But we did open it later and looked at it, Emma said it did look fun.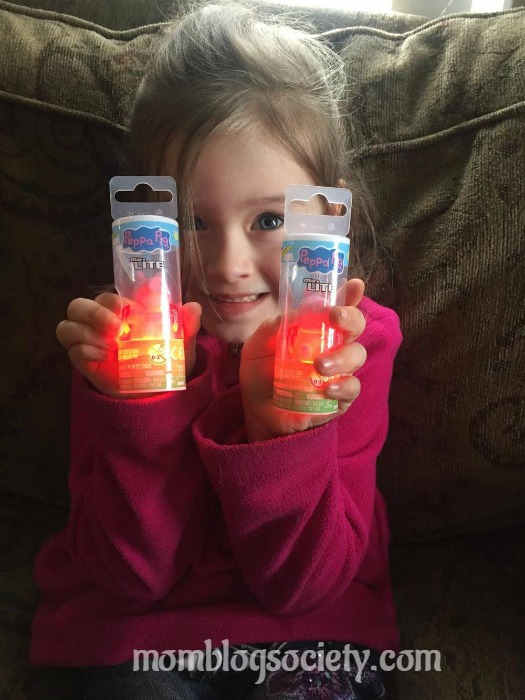 We also received 2 Peppa Pig Microlites which Emma wasn't too sure about but thought they were cute. You can purchase them individually and they will make cute stocking stuffers for children 3 years old and above.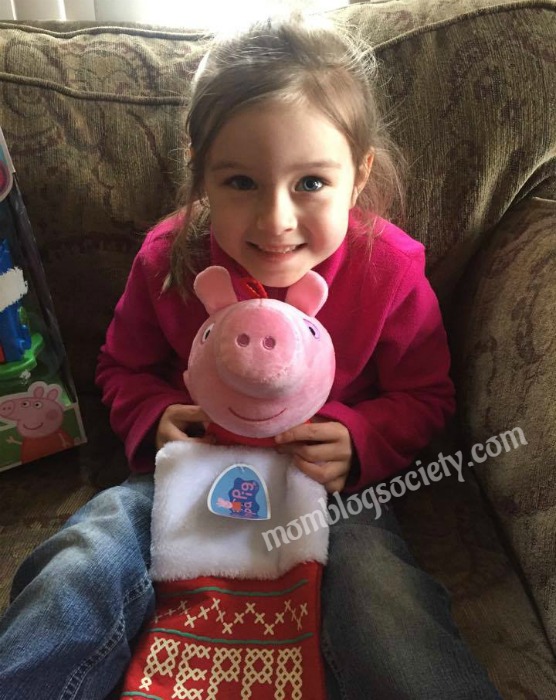 Last but not least a Peppa Pig Stocking!! Emma thought it was really neat and asked if she could keep it here for her Christmas cause she did have one at her home. I told her Santa would think that was a great idea.
It's time to deck the halls with Peppa Pig! Peppa Pig fans nationwide will snort with joy for the "sleigh load" of new offerings that are coming to town this holiday season, based on Entertainment One's (eOne) hit series seen daily on Nick Jr.! From imagination-inspiring construction playsets and games to engaging crafts kits and DVDs, there's something for every little one on the list.
"The latest Peppa Pig toys and products to hit shelves this holiday season are sure to delight fans all across the country," said Joan Grasso, VP, Licensing – North America, eOne Family. "The adorable, fun-filled new offerings, sure to be on everyone's gift list, will inspire preschoolers to create their own exciting Peppa Pig adventures every day!"
More fun than a muddy puddle, the latest line-up of Peppa Pig toys includes:e
Peppa Pig's Treehouse and George's Fort Playset

(Jazwares) – Little ones can join their favorite characters for thrilling adventures with the

tree-mendous

Peppa Pig's Treehouse & George's Fort Playset. Complete with Peppa Pig, George and Richard Rabbit figures, the interactive playset allows Peppa and her friends to swing and slide into BIG muddy puddle fun! Ages 2+, SRP: $39.99
Giggle N' Wiggle Plush

(Jazwares) – When Peppa Pig and George begin to giggle, no one can resist snorting with laughter, too! When their plush tummies get pressed, the pigs begin to giggle, oink and say funny phrases from the show. As they laugh, they move their arms and legs until they fall down, delighting little ones! Ages 18 months+, SRP $34.99
Red Car Construction Set

(Jazwares) – Preschoolers can take Mummy Pig and Peppa out for a lovely afternoon "drive" in their little red car! The construction set comes equipped with 15 pieces for imaginative play, including a table, chairs, umbrella, Peppa and Mummy Pig figures, and stickers! Ages 2+, SRP $14.99
Peppa Pig Treasure Hunt Game

(TCG) – Kids can help Peppa and friends find the buried treasure in this fun new family game! Little ones move pieces around the board to find the hidden treasure- while avoiding the muddy puddles! Ages 3+, SRP: $14.99
Among the new stocking stuffers that will have little ones snorting with delight are:
Peppa Pig Mold n' Play 3D Figure Maker

(Cra-Z-Art) – Little ones will have hours of fun and creativity modeling their favorite Peppa Pig friends out of Softee Dough! With molds and seven containers of vibrant Softee Dough colors included, kids can use their imaginations to create four different characters from the series! Ages 3+, SRP: $15.99
Peppa Pig Playing Cards Super Set

(Cardinal Games) – Children can enjoy all their favorite card games with Peppa Pig! The jumbo-sized cards come in a reusable storage box for easy on-the-go-fun. With instructions for classic games such as Go Fish, Snap, and Crazy Eights, the whole family can play together! Ages 4+, SRP $3.99
Sun, Sea and Snow DVD

(Fox Home Entertainment) – The newest DVD in the popular Peppa Pig collection contains a dozen fun-filled "peppasodes" that feature seasonal stories. Young viewers join Peppa and her family and friends on a trip to the seaside to make sandcastles – but when they arrive at the beach, there's too much snow! SRP $14.98
Peppa Pig Pajamas

(Komar Kids) – Little ones can snuggle up and let it snow as they await Santa's arrival in Peppa Pig pajamas! Kids can sleep comfortably in the soft, colorfully printed cotton PJs that are sure to set them up for a night of sweet dreams. Styles vary. Ages 2+, SRP $16.99
Peppa Pig Apparel

(Happy Threads) – Young fans can strut their seasonal style with an assortment of festive and fun Peppa Pig apparel, including tees, sets, dresses and more. Sizes 2T+, Styles, and prices vary.
Peppa Pig Ornaments

(Kurt Adler)

–

Santa's little helpers can deck the halls and the tree with a collection of Kurt Adler ornaments, lights, and stockings that feature seasonal sayings and adorable illustrations.
Airing daily on Nick Jr., Peppa Pig follows the adventures of Peppa, a loveable, exuberant little piggy who lives with her brother George, Mummy Pig and Daddy Pig. Peppa's favorite things include playing games, dressing up, spending days outdoors, and jumping in muddy puddles. All episodes are wholesome entertainment for the entire family; Peppa's adventures always end happily with loud snorts of laughter. Peppa Pig episodes are available on DVD and for download on iTunes, Google Play, and Amazon platforms. For more information on Peppa Pig, please visit the popular website and check out Peppa on Facebook, Twitter and Pinterest.
About Entertainment One
Entertainment One Ltd. (LSE:ETO) is a global independent studio that specializes in the development, acquisition, production, financing, distribution and sales of entertainment content. The Company's diversified expertise spans across film, television and music production and sales, family programming, merchandising and licensing, and digital content. Through its global reach and expansive scale, powered by deep local market knowledge, the Company delivers the best content to the world.

Entertainment One's robust network includes film and television studio The Mark Gordon Company; content creation venture Amblin Partners with Steven Spielberg, DreamWorks Studios, Participant Media, and Reliance Entertainment; leading feature film production and global sales company Sierra Pictures; unscripted television production companies Renegade 83, Paperny Entertainment and Force Four Entertainment; world-class music labels Dualtone Music Group and Last Gang; and award-winning digital agency Secret Location.
The Company's rights library is exploited across all media formats and includes more than 100,000 hours of film and television content and approximately 40,000 music tracks.
Disclosure: I received the above-pictured items in exchange for my honest review. All opinions are my own.