HABA Toys has such great gifts for your child. I want to tell you about three of their awesome toys that will make excellent gifts this holiday season.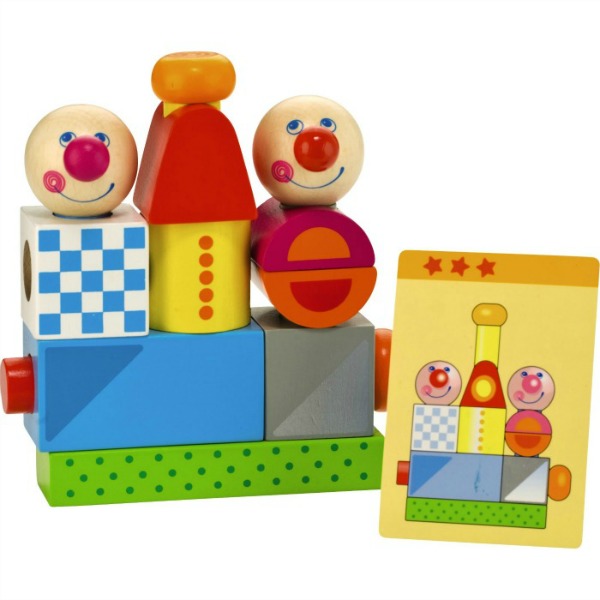 The Brain Builder Peg Set:
This one is great for ages 2+, your little one(s) will solve different peg patters which will help with their brain coordination. This game includes three different
Details:
With their Brain Builder Peg Set, little ones will activate their brain to solve the different peg patterns. Game includes three different levels of difficulty from the easiest at 1 star to the hardest with 3 stars. One side of the card shows the end result structure, the other side shows the 'answer' of how to build that structure. Kids (and parents) of all ages can step up to the challenge or design their own! Set includes 18 wooden shapes, 20 cards and game instructions.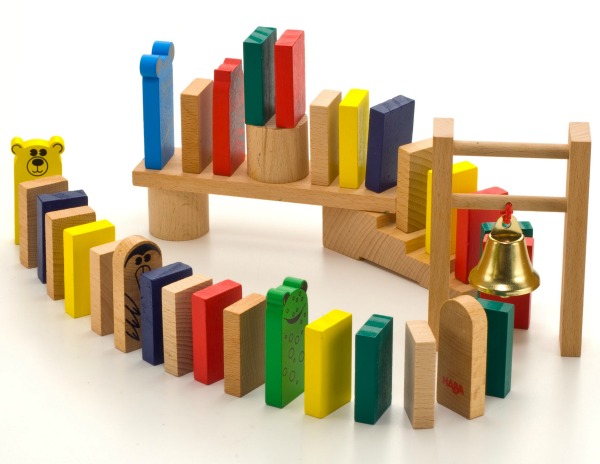 Go-Go Dominoes:
Another quality game for your 3 year old and above is the Go-Go Dominoes. These are so much fun! Your little one will enjoy building different scenarios, and even more fun is knocking them down once they are done. These are made of quality wood and will last for a very long time. Possibly you will find yourself passing them down to your grandchildren.
Details:
Keep your hands steady with our Go-Go Dominoes. There's nothing that will excite your kids more than the pushing that first piece to start a colorful chain reaction. It's a bonus if they can ring the bell included! The colorful pieces include animal theme domino's to add some 'character' to your story and round pillars to act as supports for the included climbing staircases. Includes 204 dominos, 24 animal dominos, 12 round pillars, 6 staircases, 2 bridges, 1 bell structure. Compatible with all other HABA Building systems and marble run sets.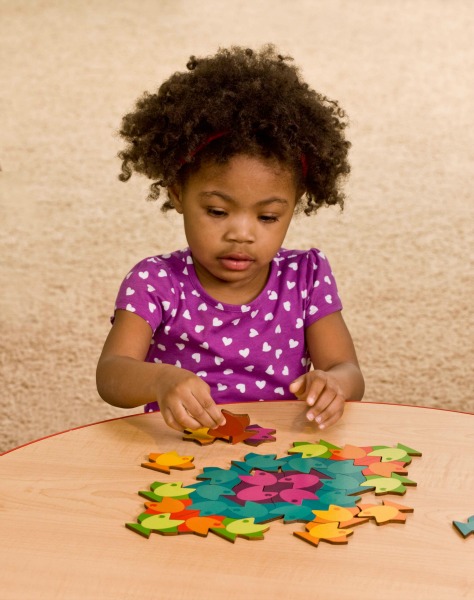 Now this game, Fish Parquet will be a great addition to your puzzles. It will help with brain activity and allow your child to create many different shapes with the versatility of patterns they can create.
Fish Parquet:
Details:
Our Fish Parquet puzzle will have your little one using their brain to come up with different patterns. Match all of the same colors of fish or build a rainbow of fish. This 48 fish parquet puzzle will surely boost any child's imagination.
Have you heard of HABA Toys?
What do you feel makes a good toy? HABA Toys feels it is important that their products are not only pleasing to the eye but designed with children in mind. It is their priority to make sure that kids find them fun to play with. That is one of the reasons that they have lasted from generation to generation.
Our products are not only attractively designed but children also find them fun to play with. That's why HABA products keep the interest of generation after generation. Our quality and production standard ensures that our products remain timeless.

We are always on the look-out for new types of products and materials. We do however put a premium on materials that can be manufactured on an ecologically beneficial basis. We use primarily indigenous maple and beech wood and water-based paints for our toys. We also use fabric, felt, leather, cardboard and glass.

The vast majority of the designers' ideas are put into practice in our own workshops. From the cut-out to assembly our products are manufactured at the Bad Rodach site, where our workforce of some 500 specialists produces our wooden toys and furniture.
About HABA Toys:
Seventy-seven years ago a factory for nice wooden products came into being. It was founded by April Eugen Habermaaβ & Co. After the death of her husband, Luise Habermaaß took over the management of the Habermaaß and Wehrfritz firms.
Two more construction phases are completed over the next few years. In 1980, The HABA company takes over the "Skaneateles Handicrafters" company located in upstate New York/USA. The company name is later changed to "T.C. Timber". Then in 2002 T.C.Timber is restructured and becomes the sales, marketing, and distribution center HABA USA. In 1987 JAKO-O, a mail-order company for families with children ages 0 to 10, is founded. In 1998, annual sales for the company are around 100 million euros. Then in 2007 the corporate family achieves annual sales of more than 250 million euros and employs over 1,500 people. Lastly in January of 2010 The JAKO-O Family store GmbH & Co.KG. came into being.
Make sure you visit HABAUSA to see all they have to offer, you will love their quality and selection.
Make sure you follow on Follow them on their Social Media:
Facebook | Twitter | Pinterest | Instagram | YouTube | Google +
Disclaimer:
This product was received from the Company for review purposes only. All thoughts and words in this post are my own and I was not paid to endorse it. I am only voicing my opinion about this product.