Fitting a kitchen sink doesn't have to be the most tedious or difficult DIY project you've ever done. Bear in mind that if major plumbing work is required, or there are major issues with piping (rust, damage, extremely old pipes, etc.) you might choose to hire a professional. But, for most homeowners, this guide can help you on your way to fitting a new kitchen sink.
Lay out the location for the New Kitchen Sink
If you are simply replacing the old sink with the new, this is already done for you. However, if you want to move the sink, make sure you draw/mark the counter where it will go. Measure all dimensions properly and map out where it is you are going to install it. You will then mark the cut-lines where you plan on installing the sink.
Cut the sink slot/space
Using a jigsaw blade, you'll cut through the drawing/marking on the counter where your new sink will go. Place the sink in the cut-out area, to ensure proper/snug fit.
Install faucet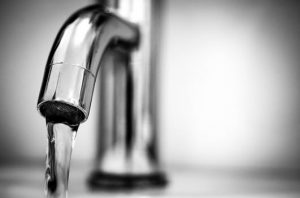 This is best done by placing the sink upside-down so you can work easily. Simply use the supplied gasket which seals the faucet in place, tighten it, and seal with a sealer/binding agent.
While the sink is still upside down you can install the strainer. Simply get plumber's putty and apply it below the strainer lip. Force this into the slot where the strainer should go to affix it.
At this point, you can turn your sink right-side up. You will place it in the slot you've cut and connect your faucet to shutoff valves. If you have a dishwasher, you can attach the drain to the bottom of the sink connections, to properly drain/wash water.
Fitting a new kitchen sink really isn't all that complicated. Especially with the newer versions and models being sold today, where most of the work is done for you, and you simply have to fit the new sink into the counter, nearly any homeowner can do this job. And, with how-to guides, video tutorials, and supplies at your fingertips, it really isn't too difficult to do with the right tools. No matter how old your sink is, if it is time to update your kitchen, you need to fit a new one. These are a few of the simple steps you can take when you're preparing the space and you are getting ready to install your new sink.