Whether you're preparing for the arrival of a new baby, or just want to make sure you're providing the best possible sleep environment for your little ones, finding the right bed sheets is essential. When you choose correctly, the bed sheets you use in your baby's crib can keep your newborn safe and comfortable, helping them sleep through the night. If your baby wakes frequently during the night, you should consider changing the bed sheets first of all. Here's a guide to the different bed sheets available for your baby's crib, to help you decide:
Cotton Baby Bed Sheets
Cotton bed sheets are by far the most common type available, both for adults and babies alike. Therefore, it's unsurprising that these tend to be the number one choice when looking for the first bed sheets to use in the baby's crib. This might not be a bad thing, as cotton bed sheets have been associated with many benefits. Cotton is suitable for young skin, as it is hypoallergenic. Many babies have skin sensitivities, which can be aggravated by certain types of bedding, so this is an important benefit for many parents. Cotton is also suited to a wide range of climates, as it keeps your baby warm when in a cold environment, but is also a warm fabric. Cotton baby bed sheets are relatively inexpensive, so this is often a good place to start.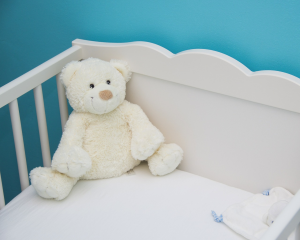 Bamboo Baby Bed Sheets
Do you want many of the benefits of cotton bed sheets, whilst being kinder to the environment? If so, bamboo baby bed sheets are the ones for you! Bamboo baby bed sheets are breathable and hypoallergenic, as well as being sourced from ethical sources, and free from nasty chemicals. However, it's important to consider your baby's comfort too, as bamboo sheets aren't as soft as their cotton counterparts. If you're determined to be kinder to the environment, and have a slightly larger budget, organic cotton baby bed sheets might be the best choice for you.
Polyester Baby Bed Sheets
If you're looking for inexpensive baby bed sheets that provide good levels of comfort and warmth, don't overlook polyester bed sheets. If you decide polyester bed sheets are the right ones for your baby, make sure you shop around a bit first. Polyester bed sheets vary significantly in terms of quality, so make sure you shop around to find the right ones for you. They are better suited to cold environments, so you may wish to consider alternative bed sheets to use in summer, or monitor your baby's temperature to avoid overheating.
Flannel Baby Bed Sheets
Does your baby get cold during the night, waking frequently? If this is the case, you should consider switching to flannel baby bed sheets. These are superior in terms of the warmth offered to infants, and feel extremely soft and comfortable. Don't use them if your house is kept really warm, however, as they may cause your baby to overheat.
For more information and advice on bed sheets, cribs and everything for the nursery, see this nursery guide by Parent.Guide.