When it comes to cooking I'm always on the lookout for great cooking appliance that will help me create an awesome, quick, tasty meal. My home has so many cool cooking gadgets you wouldn't even believe me if I told you. One of the newest gadgets I've seen is the Gourmia GMC700 Supreme 8-in-1 Digital Multi-Function Cooker with 5.6 Qt Bowl, Fry Basket, Grill/Steam Racks – 1500 Watts .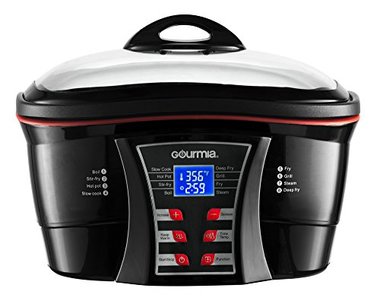 Now the Gourmia GMC700 cooker has so many great functions to meet all your cooking needs. Let me share with you all the functions more in detail. You will be able to Boil, Grill, Fry, Steam, Fondue, Roast, Stew, Warm. The cooker come with Pre-Programmed modes that has the Smart LCD Display with easy-to-read time and temperature settings.
The Temperature ranges from 122°-464° for optimal cooking results, and a Digital Timer up to 10 hours. The cooker also includes a glass heat resistant lid cover so you can view your dish as it cooks. This appliance is very compact, with a sleek design that will fit anywhere on your counter top without taking up too much space. The inner pot is non-stick and has a 5.6 quart capacity and very to clean.
Also included is a removable deep frying basket with a removable handle, and two other racks. There's so many great things I love about this cooker. You basically have everything you need in this all in one appliance. I'm very excited about trying out the deep fryer function for I enjoy cooking Cajun shrimp for my family.
You see I've been deep frying most of my food in a smaller deep pan since my last deep fryer went out. It was always every time it was messy and dangerous with the oil splashing out. With the Gourmia cooker I can safely heat the oil to the proper temperature and lower my shrimp into the oil using the basket.
I bet this Gourmia cooker would probably make a great pot of chili or a tasty hot bowl of soup. This awesome appliance will heat up fast and hold its temperature perfectly for any meal you prepare. There's so many great benefits to the Gourmia Cooker, it's easy to use, easy to clean, takes up little to no space and will cook a great meal every time.
With Valentine's Day being just around the corner this will make a perfect gift for your sweetheart. Just visit amazon to place an order, sit back and wait for it to be delivered, open your Gourmia and prepare to make a delicious meal.

Howdy everyone, I just wanted to inform you that I was not compensated for this post. However, I did receive a product from the company below and the opinions expressed in this post are 100% my own. I am disclosing this in accordance with the FTC guidelines. All prize fulfillment will be provided by Sponsors.