If you're not familiar with Voortman tasty treats then you're missing out. My family and I have been enjoying their delicious treats for many years now.
Let me tell you a little about the company first: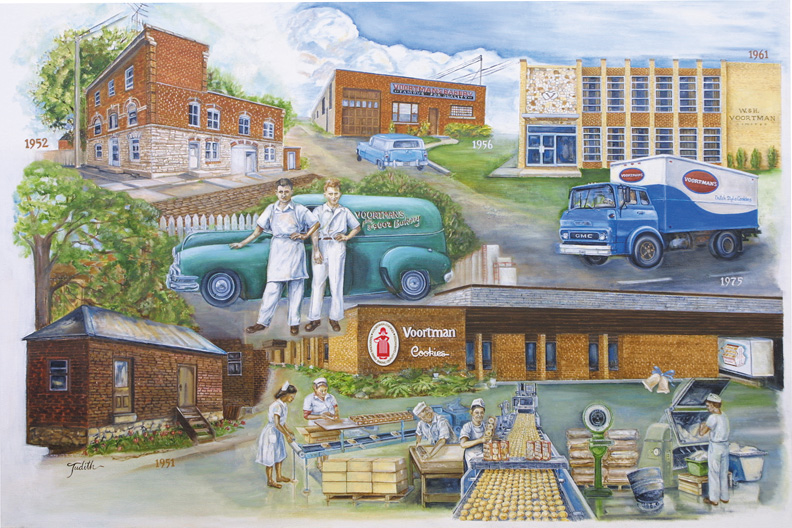 Only a few years after arriving in Canada from the Netherlands in 1948, teenage brothers Bill and Harry Voortman set out with a modest goal of being self-employed and carrying on in their family's tradition. In 1951, Bill and Harry started by baking traditional Dutch pumpernickel and honey cake in a rented back room of a house in Hamilton, Ontario and started selling their products door to door. Learn more here.
Now Voortman baking goods consist of Turnovers, Shortbreads, Almond Krunch, Coconut, Wafer cookies and much more. I can remember my parents enjoying a cup of coffee while indulging on a few Voortman cookies.
Voortman is doing something cool and fun for everyone to enjoy, you see they want you to get inspired by using their Voortman products.
They want you, your friends and family to create a fun and unique cookie creation using Voortman Wafers and to share your experience with everyone. It can be anything you wish to create, ideas like original recipe, Wafer cupcakes or poutine, or piece of art, like a Wafer train or dog.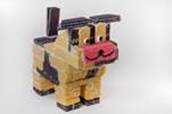 Not only are you creating something from the Voortman cookies, you can enter your cookie creation into their Inspired By Voortman contest at www.inspiredbyvoortman.com! Challenge yourself and your friends today to create and enter. The contest Inspired By Voortman will run online starting May 2 until June 13, 2016 at 12PM EST and there will be two different categories that consumers can enter: recipes and art creation.
So after speaking with my youngest daughter she was on board to create something, after all she loves creating anything when it comes to food…lol! Before I knew it we were off to the store buying ingredients for her creation. When I asked her what she needed she told me the Voortmans Wafers of course, sprinkles and stars, chocolate and vanilla chips, toothpicks,decorations and a cake icing kit.
I couldn't wait to see what inspiration Lex would create out of these items, well soon it all came to life. She created a Monsters University out of Voortman Wafter and here we go….VIOLA!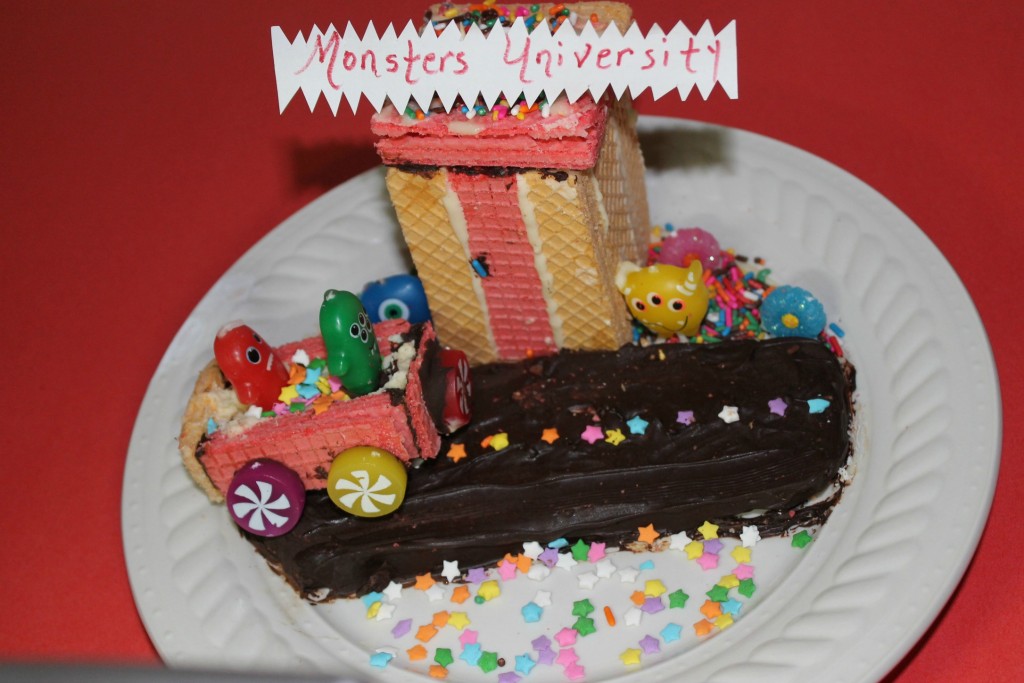 I was so impressed, she even purchased a few monsters and made a road with a car. What an imagination that girl has!She got her Inspired By Voortman inspiration from watching the Monster University Movie last night.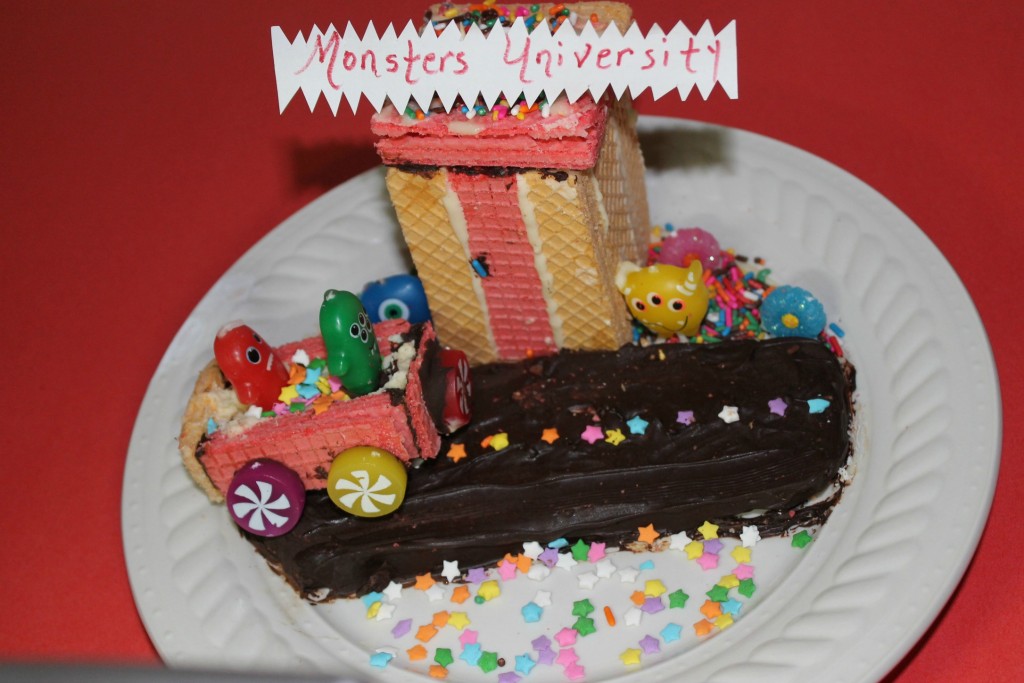 So she built her college house first with strawberry and vanilla wafers, melted her chocolate and vanilla baking chips, smooth them on her house to secure it, she added a background with a few monsters and sprinkles, built her road with two layers of wafers and then covered them with chocolate. She used her stars to act as a divider on the road. Last she sliced a few wafers into and built a little car, added her monsters along with some icing to secure them and off they went to the college…lol!
I'll have to say she had so much fun building her creation but guess what, if she enter the Inspired By Voortman contest, share it on all social media platforms she could win $2,500. WOW, that's a lot of cash!!
The contest is open to all residents of the United States(excluding AZ, CO,MD, NE, ND, PR) and Canada (excluding Quebec).
Entrants can enter their creations under the structure or recipe categories:
Wafer Structure: • A wafer structure is an object or piece of original artwork (that does not violate any copyright laws) made out of wafers. • Wafers must be visible in the creation, and ideally should make up the majority of your creation.
Wafer Recipe: • A wafer recipe is a wafer-based dish or treat intended for eating. • Wafers must be visible in the creation, and ideally should make up the majority of your creation. • Wafers must be a primary ingredient or inspiration for the creation. • You do not need to include a list of ingredients or steps to reproduce the creation in your entry.
Here are a few suggested materials to help you get started on your Voortman Wafer Creation(s):
• Your favourite Voortman Wafer Cookies
• Icing • Peanut Butter
• Whipped Cream
• Gum paste
• Icing Sugar
• Candies
• Chocolate Chips
• Marshmallows
• Cereal
• Food Colouring
• Fruit (Blueberries, Strawberries)
• Sauces (Chocolate, Caramel, Strawberry)
• Sprinkles
• Nuts (Almonds, Macadamia, Cashews), Cake batter, Brownie mix and Toothpicks.
Don't forget that the Voortman Wafer cookies are one of the staples of the Voortman line of products. They are available in eighteen different varieties including: Vanilla, Strawberry, Chocolate, Peanut Butter, Lemon, Coconut Crème, Cookies'n Creme, as well as a selection of no sugar added options.
Plus Voortman are available at many of your local stores like:
• Walmart • Target • Kroger • Acme Fresh Market
• Peanut Butter • Coconut • Mocha • Cookies' n crème
• Giant Eagle • Sobeys • Meijer • Kmart
Now I pose this question to you, what Inspired By Voortman creation will you create? It's very simple to enter, just create, enter, share and WIN! You never know you may be the lucky winner of that $2,500 dollars. #GOOD LUCK!
Connect with Voortman via Facebook | Twitter | Pinterest | Instagram | to keep up with the latest.