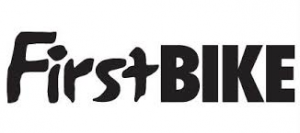 Learning to ride a bike is a classic rite of passage that can open the door to years of fun and two-wheeled adventures. It is also a skill that, once learned, is never quite forgotten. While different parents have different methods for teaching their child how to ride, one common method – that has stayed the same for years – is the use of training wheels. While training wheels work great towards helping children grow accustomed to sitting on a bike and using their legs to pedal, they won't help them learn to balance. Today, thanks to the FirstBIKE balance bike, training wheels are a thing of the past!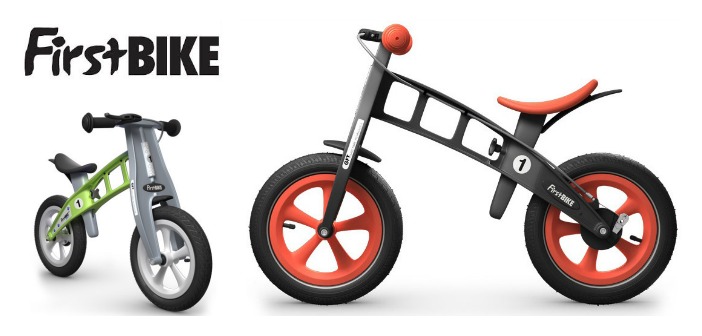 "The perfect training bike for your child from 2 to 5 years old and the first choice for parents worldwide. FirstBIKE supports the development of a child's balance and provides a no-stress method of learning to ride a bike."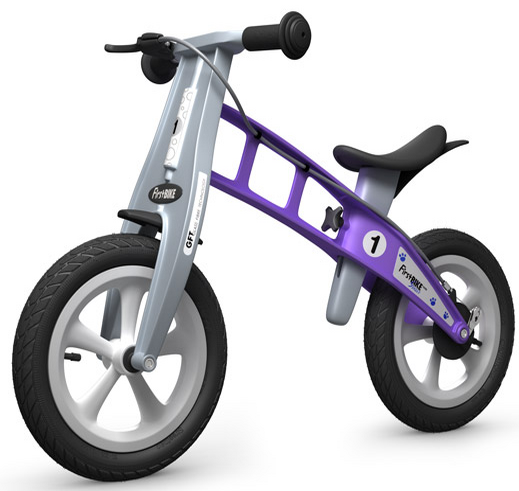 About the FirstBIKE
FirstBIKE is the innovative balance bike that allows kids to learn how to ride without the use of training wheels and without the stress and fear. Designed for children ages 22 months to 5 years, FirstBIKE has a minimum seat height of 12 inches (with the Lowkit accessory), making it low enough where children of all sizes can easily keep their feet on the ground. As your child grows taller, the bike can easily be adjusted to fit their needs – without any tools – until they are ready for a pedal bike!
The bike itself is extremely lightweight and durable, weighing only 8.6 lbs.; that's almost three times lighter than a traditional pedal bike with training wheels! With a frame made of a flexible and durable high-tech injection-molded composite, and a fork made from a 30% glass fiber reinforced nylon composite, FirstBIKE will not scratch, splinter, swell or rust. In fact, the bikes are so durable, that firstBIKE offers a lifetime warranty on the frame and fork, and a 5 year limited warranty on all other parts! In addition, the frame and fork materials give the bike flex for comfort and posture support, strength for durability, and lightness for easy and effective maneuverability.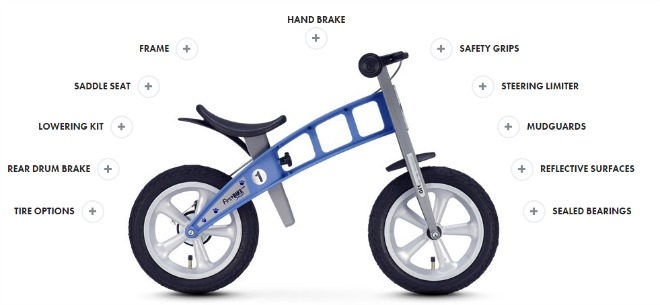 FirstBIKE Safety Features
FirstBIKEs are loaded with safety and durability features. Each bike features a cushioned "horse saddle" seat with a grip to it that prevents children from slipping off while riding downhill, and which also absorbs shock from bumps in the road. Safety grips on the handlebars provide a secure grasp, mud guards prevent dirt and pebbles from flying up, and reflective stickers keep the bike more visible in low light conditions. Most importantly, the unique rear-drum braking system makes FirstBIKE extremely safe (most balance bikes don't even have a braking system), providing gentle and gradual braking – braking that can also be adjusted if you need more or less power. Last but not least, unlike metal or wood frame bikes, with FirstBIKE, there are no sharp parts for a child to get hurt with as the frame has all smooth edges and recessed bolts.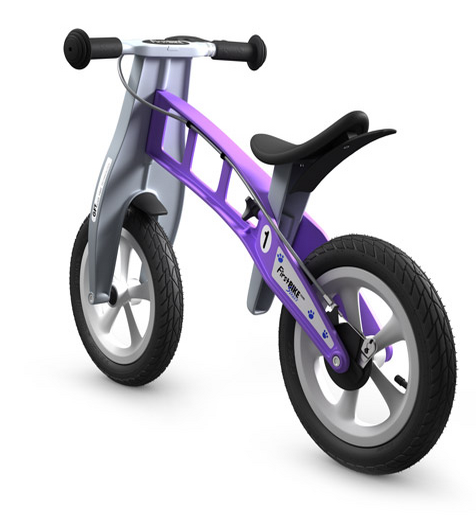 How FirstBIKE Works
The FirstBIKE balance bike is unique in so many ways. First of all it introduces a sense of being able to balance. Instead of pedals, your child uses her feet to propel herself along, lifting her feet off the ground once she has her balance and enough speed. Because she can easily place her feet back on the ground, the sense of stress and fear that often come with learning to ride a bike are greatly reduced. Another unique feature is the steering limiter. This prevents the handlebars from fully rotating around, therefore preventing the front wheel from turning too sharply and tipping the bike over. The hand brake on the right side handlebar is another unique feature in that not only is it effective and easy to use, it also helps to prevent crashes at higher speeds. In addition, it can also help ease the transition to a pedal bike. Most other balance bike graduates have a difficult time using coaster brakes (those back pedal brakes) on pedal bikes, so knowing how to use a hand brake helps them smoothly transition to a pedal bike.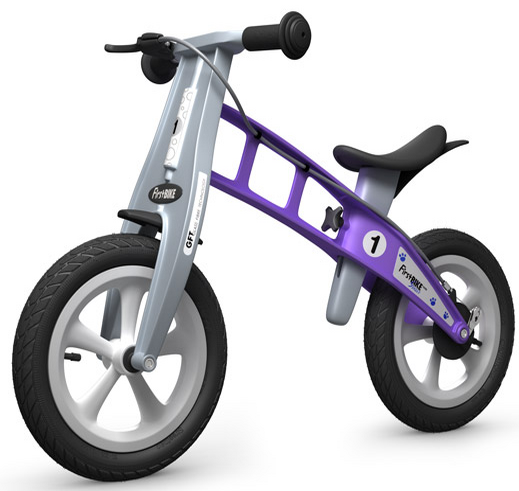 FirstBIKEs come in a variety of styles distinguished mostly by the type of tires. You can choose from Basic, Street, Cross, Racing or the special Limited Edition, each of which are available is a variety of colors. You can also purchase additional accessories to personalize your child's FirstBIKE including a Lowering Kit, bells, baskets and even a front wheel ski for use in the snow! Now, how cool is that?! In addition, you can also get all sorts of safety equipment such as helmets and vests.
FirstBIKE is a great way to teach your child how to ride a bike. In addition to being lots of fun, the FirstBIKE balance bike also helps the development of a child's self-confidence, gives them a sense of independence, and enables them to experience enjoyment of learning. And did I mention that not only is FirstBIKE effective, safe and stylish, it is also quite affordable?!
Connect with FirstBIKE: Shop | Facebook | Twitter
Disclaimer:
This product was received from the Company for review purposes only. All thoughts and words in this post is my own and I was not paid to endorse it. I am only voicing my opinion about this product.