Life can get stressful at times, especially if you're busy on a daily basis. Winding down with your smartphone or laptop sometimes doesn't cut it, so you might want to spice things up with a portable monitor.
These gadgets offer a large screen for your favorite relaxing content, and one of your best options is Lumonitor. Let's see why the device can be a great addition to your tech portfolio.
Lumonitor Provides Entertainment Galore
Lumonitor keeps up with all the highest industry standards. From remarkable resolution to a powerful battery, the model delivers optimal performance and a terrific viewing experience.
Ultra-HD Resolution and PinPoint Touch
One of the biggest selling points of Lumonitor is ultra-HD 4K resolution. It provides a clear overview of any image or video, making for highly immersive watching and gaming sessions. The depth is solid, whereas the color range is diverse.
Supporting Lumonitor's 4K resolution is the proprietary PinPoint touch technology. It recognizes the largest and tiniest strokes, whether you're using the screen with your fingers or a stylus. Plus, the 10-millisecond response time ensures a seamless transition, making it perfect for demanding video games and explosive movies.
Crisp Hi-Fi Speakers
If there's one thing that can ruin your best-loved movies and video games, it's poor audio quality. Thankfully, Lumonitor eliminates this concern with a pair of Hi-Fi stereo speakers. They produce high-quality sounds and deep bass to complement the visual effect.
Long-Lasting Integrated Battery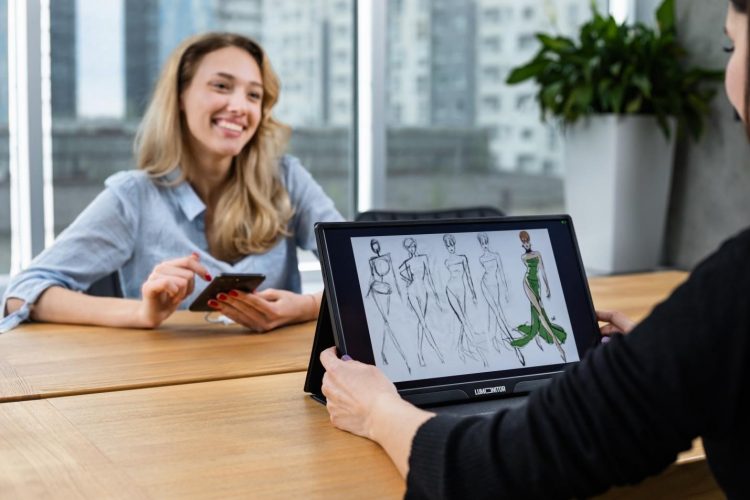 Another great thing about Lumonitor is the lack of reliance on external power sources. The model comes with a built-in battery that can last for up to four hours, extending your 4K sessions. The machine can even be used as a power source for other gadgets. For instance, if your tablet or laptop is low on battery, you can plug them into Lumonitor and carry on with your activities.
Tremendous Compatibility
When it comes to the number of devices you can link with Lumonitor, you're not restricted to just one piece of equipment. In fact, you can pair up the piece with a variety of machines:
Laptops

Desktop computers

Android smartphones

iPhones

Tablets

PlayStation and Xbox controllers

Nintendo Switch
The model features an array of ports, such as Micro USB, 3.5-mm audio jack, and HDMI. No longer do you have to carry around any bulky cables or adapters. You can access your content from practically any device with minimal setup.
In addition, you can relay images from all major operating systems (Windows, iOS, and Linux). This adds to the item's versatility, providing you with more sources of entertainment.
Cutting-Edge Technology to Protect Your Eyes
Lumonitor takes care of yet another major concern of extended screen use – eye strain. Equipped with advanced anti-blue light, flicker-free, and anti-glare filtering, you can enjoy Lumonitor's display for much longer than regular portable monitors. This feature makes it perfect for people who tend to extend their gaming hours.
Light as a Feather
Being the lightest (1.3 pounds) and slimmest (about six millimeters) product on the market, Lumonitor offers ample portability. The item is perfect for transportation, and you can even use it with one hand.
Lumonitor Promises Hours of Enormous Fun
Lumonitor isn't only designed to help people remain productive at work. It also dramatically enhances the thrill factor of watching films, TV shows, and playing video games.
Due to industry-standard resolution and state-of-the-art touch technology, images produced by Lumonitor are crystal-clear and feature amazing colors. Combined with a high-capacity battery and excellent speakers, the device can be an ideal entertainment source whenever you want to put your feet up.